April 28, 2014
Joseph gets honorary degree, poetry award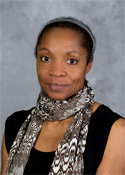 CARBONDALE, Ill. -- It's been a busy April for Allison Joseph, professor of creative writing and head of the master of fine arts creative writing program at Southern Illinois University Carbondale. 
Not only is Joseph seeing some of her own students prepare to graduate, but she's also accepting awards, including an honorary degree from her alma mater, in between poetry readings and featured appearances. 
Kenyon College, Joseph's alma mater, conferred on her an honorary doctor of letters degree during its Honors Day Convocation earlier this month.  Joseph earned her bachelor's degree from Kenyon, located in Gambier, Ohio, in 1988.  She also holds a master of fine arts degree from Indiana University. 
That same weekend, the literary journal "Rhino Poetry" named Joseph the recipient of the Paladin Award, granted to those with an "extraordinary long-term contribution to poetry in Illinois." 
Joseph's award reflects her role, not just as a poet, but also as a teacher, editor, and mentor.  Joseph is the founder of SIU's Young Writers Workshop summer camp, poetry editor of the "Crab Orchard Review," published by SIU, and founder of the creative writing opportunities list serve CRWROPPS and the MFA Bulletin Board on BlogSpot, which she uses to encourage her students and other writers. 
"I am very proud and quite honored," Joseph said.  She accepted the award during the journal's open mic event in Chicago on April 25. 
Joseph's awards from previous years include the George Garrett Award for Outstanding Community Service in Literature and the Aquarius Press Legacy Award. Her poetry collections include, most recently, "My Father's Kites," and also "Worldly Pleasures," "Imitation of Life," "In Every Seam," "Soul Train," and "What Keeps Us Here."