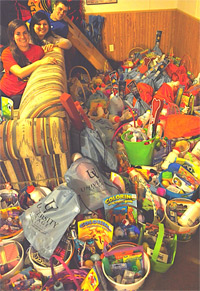 Spring Cheer Baskets -- The Social Work Student Alliance at SIU Carbondale collected and distributed hundreds of items for local children, families and animals recently.  Shown with some of the donated items are, left to right, are initiative organizers Lea Metz,of LaGrange Park, and Lauren Prusa, of Chicago Ridge, and Zach Veinotte, of Chicago, president of the registered student organization. (Photo provided)
April 23, 2014
Student initiative brings 300 'cheer baskets'
CARBONDALE, Ill.  -- Thanks to the generosity of many people and the hard work of the Social Work Student Alliance at Southern Illinois University Carbondale, many area families received spring cheer baskets. 
The Spring Cheer Basket Initiative 2014 collected toys, school supplies, toiletries, baby items and other goodies to make 300 baskets, an increase of about 50 percent from last year's inaugural drive.  The baskets were distributed to area families through The Women's Center Inc., and Caritas Family Solutions in Carterville. 
In addition to the gift baskets for area children and their families, there was a wide assortment of donated animal supplies, treats and other necessities to the Humane Society of Southern Illinois. 
Organizers expressed appreciation to the many Southern Illinois residents, as well as organizations throughout the state, including the Chicago area, who contributed items and money.  
Social work students Lauren Prusa, of Chicago Ridge, and Lea Metz, of LaGrange Park were the leaders of this year's initiative. The Social Work Student Alliance is a registered student organization on campus.