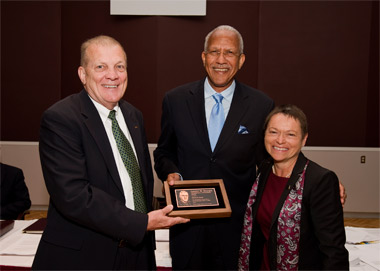 Harold R. Bardo, center, winner of the Lindell W. Sturgis Memorial Public Service Award, is flanked by Board of Trustees Chair Randal Thomas and SIU Carbondale Chancellor Rita Cheng.  (Photo by Steve Buhman)
April 17, 2014
Harold Bardo wins Sturgis public service award
CARBONDALE, Ill.  -- Involvement in community service is "just part of being a good citizen," Harold R. Bardo believes. 
The longtime director of Southern Illinois University Carbondale's Medical/Dental Education Preparatory, or MEDPREP, program, has demonstrated his commitment to young people and the community over the past half-century through his volunteerism and work with schools, health care organizations, athletics and academia.  
In recognition of his extensive contributions, Bardo is the recipient of the 2014 Lindell W. Sturgis Memorial Public Service Award. 
The annual award, presented by the SIU Board of Trustees since 1980, recognizes SIU Carbondale employees for public service unrelated to their jobs.   The award is named for Sturgis, a Metropolis native who served more than 30 years on the SIU Board, including as chairman from 1969 until retiring in 1971.  Sturgis passed away in 1972.  The award carries a $750 cash prize. 
"To every endeavor he undertakes, Dr. Bardo brings his joy of living, his sense of humor, his passion for the growth and development of young people and his professionalism.  He has truly lived a life of service to his institution, his community and his profession," Mario Moccia, director of athletics at SIU Carbondale, wrote in nominating Bardo for the award. 
The SIU Board presented the award to Bardo today (April 17) during a ceremony at the board meeting.  Bardo said he was surprised when he received the call from Chancellor Rita Cheng that he was chosen. 
"It is quite an honor.  When I look at the past recipients, I'm humbled to be in their company.  I know and respect many of them and their work," Bardo said.  "For me, I feel that what I've done is my duty.  It's essential to be involved.  If you are part of something or care about something it is important to contribute.  I've enjoyed the work." 
Bardo is a triple alumnus of the SIU system.  A native of Sparta, Bardo arrived at the Carbondale campus in 1957 and lettered in basketball and track and field on his way to completing a bachelor's degree in history in 1962.  He earned his master's degree in education in 1969 at SIU Edwardsville and his doctorate, also in education, in 1972 at SIU Carbondale. 
Bardo and wife, Lana, have resided in Carbondale since 1968, raising three children and taking on a number of service and leadership roles and positions at the local and national levels.  
Wanting to be involved in his children's education and also improve educational opportunities for all children, Bardo served as vice president of the Carbondale Elementary School District and was a member of the Carbondale Community High School Curriculum Advisory Committee.  All three children -- Craig, Helen Bardo Levins and Stephen -- followed in their father's footsteps, earning college athletic scholarships.  
The Carbondale United Way benefitted when Bardo served on the board of directors and he has made numerous contributions to improving local health care.  He has served since 1989 as member of the Southern Illinois Healthcare (SIH) board of directors, including chairman from 1997 to 2000 and vice chairman from 1996 to 1997, along with working on a variety of board committees.  
The work has been particularly enjoyable for Bardo, and he's gratified to have been a part of ongoing efforts to improve health care throughout the region.  He said he's pleased to see Memorial Hospital of Carbondale, St. Joseph Memorial Hospital in Murphysboro and Herrin Hospital come together under the SIH umbrella, sharing facilities and efforts to provide the best services possible to people in the region.   He's excited about plans for the new cancer center near Carterville, which will save people from making trips to St. Louis-area facilities for treatment. 
"This work is really rewarding," he said.  
Bardo said he is particularly proud of his work at SIU though, where the MEDPREP program has helped prepare students for rewarding medical careers since its launch in 1972. 
"I have such a passion for this program and it is really paying dividends in terms of the outstanding students who have completed the program and gone on to accomplish great things," Bardo said.  "I really enjoy helping them." 
In addition to serving as a faculty member and campus leader, Bardo has also served as interim director of intercollegiate athletics, acting associate dean for fiscal affairs in the College of Education and Human Services and academic adviser for intercollegiate athletics at the university.  He has been assistant dean for minority affairs and counseling since 1988 and associate chairman of medical education since 1984.  
Bardo has served on numerous university search committees for SIU and has been the faculty athletics representative for the university for 18 years.  He attends as many sporting events as possible, connecting personally with many of the student-athletes, advocating for them and encouraging them to excel academically.  
He has been part of the table crew for men's basketball since 1973 and is an appointee to the National Collegiate Athletic Association Amateurism Cabinet and the NCAA Division I Leadership Council.  He is the council's liaison to the Division I Student-Athlete Advisory Committee and has served on the Missouri Valley Conference finance committee, in addition to other roles involving college athletics and professional organizations. 
"Dr. Bardo has been active in the community and on the regional and national level in a variety of organizations, but he never strayed from his training and calling as an educator and mentor and his passion for athletics," Moccia wrote.  "His ongoing commitment to meeting the region's health care needs, and his service to the community in many ways are most definitely worthy of recognition."