April 10, 2014
Alumnus to present Morton-Kenney lecture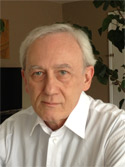 CARBONDALE, Ill. -- A two-degree Southern Illinois University Carbondale graduate who is one of the nation's leading political analysts on demographics, race and politics will return next week to share his thoughts. 
David Bositis, a vice president and senior research analyst with the Joint Center for Political and Economic Studies, will discuss demographic change and its impact on politics, culture, black politics and voting rights. He will present "Raging Against the Dying Light," on Monday, April 14, in the Student Center Ballroom B.  The event is part of the Morton-Kenney Public Affairs Lecture Series.  
Admission is free and open to the public. The Department of Political Science and the Paul Simon Public Policy Institute sponsor the lecture.
---
Media Availability
Reporters, photographers and news crews are welcome to attend a media availability with David Bositis, vice president of the Joint Center for Political and Economic Studies, at 10 a.m., Monday, April 14, at SIU Carbondale's Paul Simon Public Policy Institute, 1231 Lincoln Drive, in the old U.S. Forestry Building. David Yepsen, institute director, will serve as moderator.  For more information contact Delio Calzolari, institute associate director, at 618/453-4009.
---
"David Bositis is a leading scholar on issues of race and politics in America and we're excited he's able to make the trek back to Carbondale to talk about them," David Yepsen, institute director said.  "One issue in American politics is how Republicans can win presidential elections while performing so poorly with minority voters.  As we head into the 2016 presidential cycle it's a good issue to watch -- for scholars and also for political practitioners and observers."   
Bositis has been with the Joint Center for Political and Economic Studies in Washington, D.C., since 1990 and is an expert in voting rights and redistricting. He has appeared as an expert witness in both state and federal courts and is a scholar of black politics and voting.   He is the author, co-author or editor of six books, 15 monographs, and numerous scholarly articles, analyses and reports. He has taught political science and sociology at the George Washington University and the State University of New York at Potsdam. 
Scott Comparato, associate professor and interim chair in political science, said Bositis' views on demographic changes reshaping the political landscape and what those changes -- economic, political and social -- mean for young people, minorities and women, are important. 
"On the eve of the 50th anniversary of the passage of the Civil Rights Act, we could not have a more appropriate speaker as part of the Morton-Kenney lecture series," Comparato said. "This is compounded by recent trends in American politics that have brought race to the forefront for policymakers. Numerous states are working to enact voter ID laws, the Supreme Court has recently limited the Voting Rights Act and enhanced the influence of money in elections. Those developments will have a profound influence on nature of elections in the coming years." 
Bositis earned a master's degree in 1976 and a doctorate in 1982 from SIU Carbondale.  This is his first return to campus in 30 years, although he has seen and remains in touch with people he knows from Carbondale over the years. 
"I'm very much looking forward to returning to Carbondale about which I have nothing but fond memories," Bositis said. 
John S. Jackson, a visiting professor at the Simon institute, had Bositis as a student in at least one graduate seminar and was also on the dissertation committee as Bositis pursued his 1982 doctorate in political science.  The two have co-authored one article published in a national journal and worked on one national survey together.  The Joint Center for Political and Economic Studies is "the leading minority-oriented think tank in the nation," Jackson said. 
The key to Bursitis' academic success "has been his dedication to very careful and meticulous empirical research," Jackson said. 
"He's the leading authority in the nation on political participation among African-American voters as well as the on the characteristics of African-American political leaders," Jackson said. 
Bositis is the 36th lecturer in the series that began in 1995.  The Morton-Kenney lecture series brings speakers to campus in the spring and fall of each year. Jerome Mileur, originally from Murphysboro, is a professor emeritus in political science at the University of Massachusetts-Amherst, retiring in 2004 after a 37-year teaching career there.  Mileur established the series in 1995 in honor of two of his political science professors -- Ward Morton and David Kenney -- who inspired him as a student.  Mileur earned his bachelor's degree in speech communication in 1955, and a doctorate in government in 1971, both from SIU Carbondale. 
For more information on the program, contact the institute at 618/453-4009 or visit paulsimoninstitute.org/.