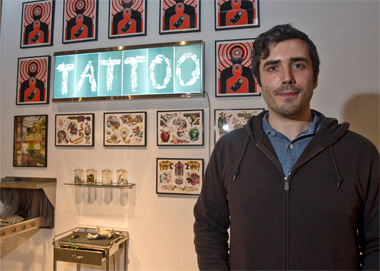 April 08, 2014
Mann earns Rickert-Ziebold honors
CARBONDALE, Ill. -- Lonnie L. Mann III is the sole winner of this year's Rickert-Ziebold Trust Award competition at Southern Illinois University Carbondale. 
Mann is the first competition solo winner since 2007 and only the second in the past 30 years.  The competition is in the School of Art and Design. 
A non-traditional student, Mann, a 2002 graduate of Marion High School, initially joined the military.  He trained as a mental health specialist and settled in at Brooke Army Medical Center in San Antonio, Texas.  However, an injury ended his military career and forced him to reconsider his life path. 
A member of the University Honors Program, Mann has a growing batch of awards to his credit.  He has participated in the university-wide competitive Research-Enriched Academic Challenge (REACH) program where he was recognized with the Outstanding Arts/Creative Project, and the McNair Scholars program.  He also earned a Wingate Foundation grant through the School of Art and Design. 
Mann said his interest in industrial design blends his backgrounds in the medical, mental health care, and artistic communities.  When he isn't busy at SIU, Mann is a tattoo artist, with a particular interest in traditional American and Japanese styles. 
Each year, approximately a dozen seniors vie to be included in the contest.  Finalists use space in the Surplus Gallery in the Glove Factory art facility that showcases their best work and how they use the space to their advantage. Faculty votes, cast in secret, determine the winner.  
The annual Rickert-Ziebold Trust Award honors the late Joseph Rickert, a prominent lawyer and former state senator from Waterloo, who loved the arts and appreciated SIU Carbondale's place in the cultural life of the Southern Illinois region. His family established the award in 1974, and it is the most prestigious award offered by the School of Art and Design. 
Mann's winning entry and all entries from the 13 other finalists are on display through Saturday, April 12, in the Glove Factory, 432 S. Washington Ave., Carbondale.  A reception to honor all entrants as well as Mann begins at 5:30 p.m. on Friday, April 11, with an awards presentation scheduled for 6:30 p.m.