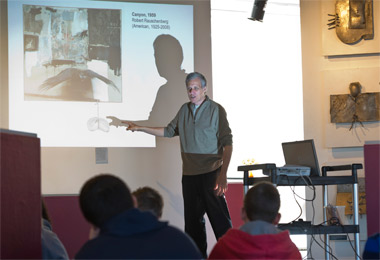 March 27, 2014
Museum's Bob DeHoet connects region's students to art, history
One of our great spring traditions returns in just a few weeks. On April 16-17, we will host between 2,000 and 3,000 elementary and middle school students and their teachers for the annual Arts Education Festival.
I enjoy interacting with many of the students, whose energy, enthusiasm and broad smiles are contagious. They come from schools all over Southern Illinois and benefit from the incredible artistic and creative talents of our faculty, staff and students, as well as community members.
Right in the thick of all of the activities will be Bob DeHoet, director of educational programming at the University Museum. Bob came to SIU as a graduate assistant in 1987, right around the time the festival got started. He became the museum education coordinator in 1991.
Bob works closely with campus colleagues to plan each festival, which includes musical, dance and theatrical performances, and hands-on art and crafts activities. I know from conversations with many of those who share their talents that the festival is as memorable an experience for them as it is for our guests. All of that time and effort is in addition to their normal responsibilities.
"That comes back to us," Bob said. "I've met some of the students I worked with as second and third graders who have come to school at SIU. It's pretty wild when someone you saw as a youngster comes up to you as a 19 or 20 year old and remembers dioramas at the museum during the festival."
The festival is only the most visible of Bob's many outreach efforts. Over the last 10 years, he has helped students of all ages develop a greater appreciation for art and for our wonderful museum collections. This semester's project, generously supported by Carbondale Community Arts, involves students from Eldorado, Elverado, Cobden, Anna and Metropolis, who are creating wall-mounted sculptural objects that will be displayed at the museum.
Bob and Harvey Henson, assistant dean of our College of Science, also have worked with Belleville fourth graders for many years on a Young Earth Scientist project. Bob and Harvey visit the school and also lead the students on field trips related to the theme they are studying.
Bob also teaches in our museum studies minor, and curates exhibits. Despite a very full schedule, I appreciate his commitment to finding even more ways to bring students together with art and history. He is working on a partnership between our museum and the Cedarhurst Art Museum in Mount Vernon that would involve 20 schools and focus on sculpture.
"I am continually amazed by the abilities of young people. It's discovery for them and discovery for me," Bob said. "It's so nice to see all of these students be able to do things with what the museum has to offer. It makes you realize how incredible it is to work in a museum with the kinds of resources we can put out there. We give them opportunities that will serve them for the rest of their lives."
I agree; the museum is a wonderful resource and I hope you take advantage of it often. Our most important resource is our faculty and staff; people such as Bob who share their love of life-long learning with students of all ages.