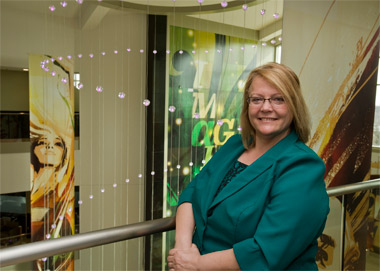 March 20, 2014
Students, families benefit from Beth Scally's compassion, commitment
Our university is one destination for every journey. Students come to SIU from all 50 states and more than 100 countries. Each has a unique set of experiences, as well as academic and career dreams. And quite a few of our students balance academics -- and sometimes job demands -- with family responsibilities.
With the experience of raising two small children while attending graduate school, I understand the many challenges student parents face. Beth Scally, an associate director of University Housing, does as well. She oversees family housing, and together with her team, ensures that the needs of students and families living in Evergreen Terrace, Southern Hills and Elizabeth Street Apartments – 1,100 in all – are met.
I know from talking with Beth that she approaches her job with tremendous compassion, along with the professional expertise developed over her many years with University Housing. She, too, is a parent; daughter Kristy is a freshman here, and son Sean attends Carbondale Community High School. Beth's husband, Mark, is our executive associate athletics director.
Beth has known since her sophomore year at Eastern Michigan University that she wanted to have a positive impact on students. She spent time shadowing her Uncle Harvey Welch, who was SIU's dean of students at the time. That experience convinced Beth that, like her uncle (who retired in 1999 after a distinguished 24-year career with SIU), she wanted to pursue a career focused on student success. After earning her bachelor's degree from Eastern Michigan, she enrolled in our graduate school in 1986.
Beth joined University Housing as a hall director after earning her master's degree in 1988. After five years in that job, she launched University Housing's marketing program, which she ran for seven years. She followed that by overseeing residence life, and then education and outreach for University Housing, which at the time included such key programs as Saluki Peer Mentors – experienced students who help smooth the transition for freshmen. That is among the initiatives that now make up Saluki First Year.
Beth and her team handle a wide variety of responsibilities, including the "standard" contracting and living procedures for family housing, and ensuring maintenance needs are addressed. For those students who come to school with few possessions, Beth and the staff connect them with the resources that can help meet their needs.
They also understand the importance of providing safe and educational after-school and other programming for children.
"If the student's children aren't staying busy, it can be hard for the student to get their studying done," Beth said. "We also have a significant international population, so we educate them about expectations we have in this country when it comes to watching children."
Her focus on students includes mentoring members of the women's basketball team; teaching a section of our freshman success course; assisting with Saluki Cares; and serving on one of the task forces exploring ways to enhance student retention.
"We are really paying attention to what brings students to our university and what keeps them here all the way to graduation," she said.
To me, the answer is people such as Beth and the other members of our staff and faculty who always put the welfare and success of our students first.