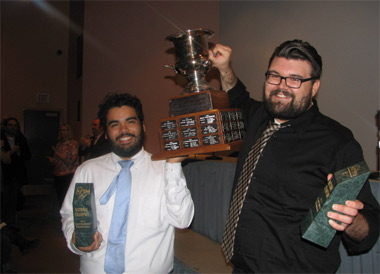 National Champions again -- The Southern Illinois University Carbondale Debate Team won the National Parliamentary Debate Association National Championship for the second year in a row this past weekend at Northern Arizona University.  Josh Rivera, left, a junior from Chicago and Ben Campbell, a senior from Springfield, Mo., are both majoring in political science. Rivera was also a member of last year's winning team.  (Photo provided)
March 26, 2014
SIU wins second straight debate national title
CARBONDALE, Ill. -- The Southern Illinois University Carbondale Debate Team is the national champion -- again!  The team of Ben Campbell and Josh Rivera won the National Parliamentary Debate Association National Championship, marking the first time in the tournament's 21-year history a university has back-to-back champions. 
Campbell is a senior political science major from Springfield, Mo., and Rivera is a junior political science major from Chicago.  This is Rivera's second NPDA national championship; he and partner Mike Selck won both the national championship and the National Parliamentary Tournament of Excellence National Championship last year. 
More than 150 teams from across the country competed March 20-23 for the title at Northern Arizona University.  SIU has a winning history with debate national championships. This is the team's fifth national title year, also winning crowns in 1988, 1996, 2008 and 2013. The team has also reached the final four of a national championship for seven consecutive years -- a record for any university. 
"Ben and Josh were the top-ranked team in the country going into the tournament, but their second semester had been rough -- for their high standards," Todd Graham, director of SIU's debate team said. 
Campbell and Rivera won five tournaments during the fall semester but hadn't won any tournaments during the spring semester.  However, the team poured on the research and preparation steam and came back with a championship to show for it.  Graham said there is only one other debater in tournament history to win two titles, but Rivera is the only one to earn consecutive titles. 
"We are so proud of the continued success of our national champion debate team," Chancellor Rita Cheng said.  "Wherever they travel to compete, they represent SIU and serve as an example of the commitment to excellence and student success that is our foundation, our mission and our goal." 
Multiple judges score debates, which means some wins are more decisive than others.  The final championship round was an 8-1 decision, with only one judge scoring in favor of the opposing team.  Overall, the record for the final five elimination debates was 29 votes for the team and only 4 against. 
Graham noted Campbell and Rivera successfully handled the pressure. 
"Ben and Josh could not have debated any better than they did when the pressure ramped up and everything was on the line," he said.  "As the tournament got smaller, with only the best teams advancing, Ben and Josh were still able to dominate every opponent they debated by winning all of their debates by lopsided decisions." 
"This weekend was the perfect end to an eight-year long debate career, " Campbell said after returning to Carbondale.  "There is only the opportunity for two debaters to end the year on the highest note possible, and to be one of those, and to be a senior, is quite the experience."   
Graham also praised the efforts of the debate team in bringing home the title. 
"We couldn't have done this without a lot of help," he said.  "Our graduate assistant coaches were tremendous this year.  Steve Farias and Mike Selck were unbelievably good in all aspects of their coaching -- I don't know what I'd do without them.  And our other team member, Ariana Arnone, a freshman, was also critical in scouting and researching for us at the national championship.  Since SIU has such a small program, we have to work together if we want to win.  And everyone did his or her part.  We wouldn't have the championship without the combined efforts of everyone on the team."