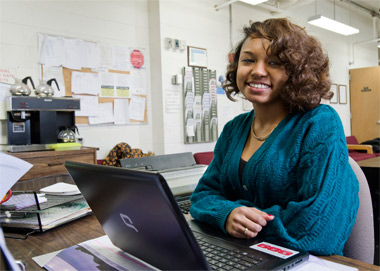 February 14, 2014
SIU McNair Scholar Martisia Mitchell is studying agribusiness economics
Many of you perhaps encountered Saluki football players at stores in Carbondale and Murphysboro the day before the Super Bowl. They were participating in the Souper Bowl of Caring, an annual event that raises funds to combat hunger in our area.
I am always proud of our students for their commitment to helping others. To understand how much service is a part of our university's culture, consider this: In the last fiscal year, nearly 300,000 student hours benefitted more than 125,000 people statewide!
Like so many of her fellow Salukis, senior Martisia Mitchell carries a full course load, has a part-time campus job, and participates in extra-curricular activities, including Alpha Kappa Psi, which is a registered student organization in our College of Business. But she also makes time to volunteer at the Women's Center of Carbondale.
Helping our friends and neighbors here is an extension of what Martisia has been doing in her native Chicago, where she volunteers at a women's shelter and at a Sylvan Learning center.
"I appreciate my opportunities to mentor others," she said. "When I was growing up, there were always people around me providing guidance. To see the looks on other people's faces when I'm volunteering is extremely rewarding."
Martisia is majoring in agribusiness economics with a minor in speech communication. After she graduates in May, she plans to pursue a master's degree in public administration. She credits our McNair Scholars program with fueling her interest in graduate school, noting, "Participating in that program was one of the best decisions I ever made."
The federally funded program is named for physicist and astronaut Ronald McNair, one of the seven crew members who died in the Space Shuttle Challenger tragedy in 1986. Scholars are typically first-generation college students who are low income from all ethnic backgrounds, or who are from groups traditionally underserved in higher education. Only 28 students earn a spot in the program, and like Martisia, they have to be motivated, because it is very demanding. They benefit from strong mentoring, professional development and research opportunities that promote academic excellence and encourage success in graduate school.
Our 10-year history with the McNair program is a strong one. When we received our third consecutive round of funding in 2012, SIU was one of only 149 universities approved by the U.S. Department of Education. More than 300 universities applied.
When the McNair Scholars complete their research projects, they make formal presentations at a campus symposium. I make it a point to attend those events because I appreciate the hard work of the students – and their faculty mentors. And their original research is amazing, covering topics in modern culture, the social sciences, the sciences, and engineering, among many others.
Martisia participated in last summer's symposium, and her work also impressed Royce Burnett, associate professor of accountancy and KPMG Research Professor. She has been assisting him with a long-term project in which they are examining fraud cases with the goal of establishing a profile of the typical embezzler.
With her commitments to outstanding scholarship and to making a positive difference in the community, I know big things are within reach for Martisia.