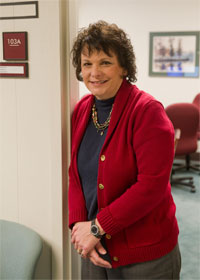 February 07, 2014
Beth Mohlenbrock helps create opportunities
Whether it is at her job or while she is engaged in community service work, Beth Mohlenbrock's focus is on creating opportunities for students of all ages.
Her ties to SIU and our region run deep. A Johnston City native, Beth earned her bachelor's and master's degrees from our university. She is part of a great family legacy of Salukis, including her two sisters, nephews, nieces, her husband Trent, and her daughter Heather. Beth's career in our Development and Alumni Relations division started with a graduate assistantship with the SIU Foundation. Today, she is executive director of Advancement Services, and she is a member of the division's leadership team.
"I really get to see the best of SIU," Beth said. "I get to see alumni who are making a difference, I get to see the promise of the students we interact with who are our future alumni. It's fascinating to me how all these paths crossed in Carbondale, then the students graduate and leave, but SIU remains the common denominator. It's unusual to have a job where you have that kind of perspective. I feel privileged to learn those life stories."
Beth oversees such operational aspects as information technology, the alumni and development database, the financial accounting database, gift processing and the research area. Her office also is a resource for the entire campus, providing mailing lists for millions of e-mails that go out each year to alumni to help them stay connected with their alma mater.
I know how passionate Beth is about the role of her office in the work of the SIU Foundation and the SIU Alumni Association.
"For both organizations, the significance is that we are re-connecting people with SIU," she said. "That translates into monetary support, which translates into scholarships and helping to fund programs."
One of the reasons I was attracted to SIU is its wonderful legacy as an institution of access and opportunity, especially for first-generation students and other underserved populations. With the economic challenges of the last several years in our region and across the state and nation, private support of our students has become even more critical.
"We are genuinely helping students who otherwise wouldn't have those opportunities," Beth said. "And that includes our donors. It helps them fulfill a life goal, to give back. We are bringing donors and recipients together."
I appreciate Beth's Saluki spirit and her community spirit. She is a founding member and serves on the board of directors of Artstarts in Marion, a not-for-profit charitable organization that provides arts programming in the southern 14 counties for students in kindergarten through 12th grade.
"Lots of SIU folks are involved in the organization," Beth said. "It's right in line with how the university can impact our communities."
Artstarts also helps bring our young people together.
"This is another family for them, and it's a place for kids to share their interests," she said. "We bridge all the Southern Illinois communities. We have kids from all over, and there aren't a lot of opportunities for kids that age to interact."
On campus and in our communities, the members of our faculty and staff are helping students of all ages realize their dreams.