February 17, 2014
Lecture will focus on child welfare issues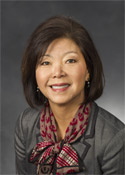 CARBONDALE, Ill.  -- An internationally respected expert on global and national child welfare policy and programming will visit Southern Illinois next week. 
Jini L. Roby, a professor at Brigham Young University, will discuss "Issues in Child Welfare -- Here and Around the Globe," on Feb. 26 at the Carbondale Civic Center, 200 S. Illinois Ave. The luncheon is from 11:30 a.m. to 1 p.m.  The Paul Simon Public Policy Institute is sponsoring the event. 
The luncheon and lecture are free and open to the public, but seating is limited and advance registration is required for meal considerations.  To register, contact the institute at 618/453-4009 or by email at rsvp@paulsimoninstitute.org by Friday, Feb. 21. Open seating will be available for those who wish to only listen to the speech and not be included in the meal. 
Roby's research focus is on global issues of children at risk, and she was a senior program specialist with the Fulbright Scholars Program from 2008 to 2013.  She has also worked as a consultant for many countries in Africa and Asia, along with international non-profit organizations that serve vulnerable children and families. 
"I hope her visit underscores the importance of child welfare issues in a society. We all just ache at stories of abused children, children in poverty and other challenges many children face," David Yepsen, institute director said.  "These issues have important public policy implications because if a society can identify and correct problems early in a child's life, it can pay huge dividends -- and save taxpayers a lot of money in dollars that don't have to be spent on things like treating chronic or mental health disease and criminal justice costs." 
For more information on the program, contact the institute at 618/453-4009 or visit paulsimoninstitute.org/.