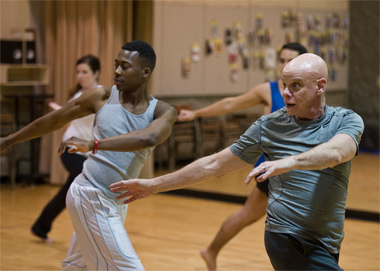 January 30, 2014
Theater productions enrich lives, broaden horizons
If you are a "regular" at productions, performances and exhibits on our campus, as I am, you know about the important cultural contributions SIU makes to our region – and beyond. If not, I invite you to join us so you also can appreciate how much our talented and creative faculty and students enrich our lives and broaden our horizons.
Last semester, I joined our Chancellor's Scholars for an up-close look at how the theater department staged "Ragtime." Before the McLeod Theatre curtain went up, department Chair Tom Kidd gave us an in-depth look at how the nine-member faculty chooses shows – all of which are designed to benefit students and the community -- and how they come together. Tom took us from space to space as he described all of the elements of a production, including designing and creating costumes and scenery, lighting and sound.
Like his colleagues, Tom brings energy, enthusiasm and great experience to the department. A Georgia native and graduate of our Master of Fine Arts program, his background includes acting, choreography, directing and teaching in community theater and at the professional level, including with the Six Flags Corp., The World Trade Center of Atlanta, The Atlanta Lyric Theatre, and even choreographing promotional shows for the Atlanta Braves organization. He has taught at a performing arts school in Atlanta, managed a modern dance company in Ames, Iowa, and served on the faculty of Shorter College in Georgia. He came here when his wife, Laura, joined the faculty; she is an associate professor of fashion design.
 I appreciate Tom's passions for teaching and the performing arts.
"We not only function as an academic unit offering courses and degrees, but we also are two fully functioning theater companies," he said. "One is the Department of Theater, and we also function as the McLeod Summer Playhouse with support from the School of Music and the community."
Significant thought and planning go into the productions staged during the school year as well as the McLeod Summer Playhouse – the only professional theater company in a 90-mile radius.
"We pay attention to what we have done previously, and to what is current," Tom explained. "If you look at any four-year period, we would have covered, for example, a movement piece, a non-realistic piece, a current Pulitzer-winning play, Shakespeare. We look at these for our students' training and for the community's benefit. So, we are very eclectic."
In addition to their teaching responsibilities, faculty members work alongside students for every production.
"Every member of our faculty has some function they fulfill as staff of this professional theater company," Tom said. "We all have a duty, but we only have one person in one slot – one lighting designer, one set designer, a director."
For students and faculty alike, the days leading up to and through a production can stretch to 14 hours – over six weeks at a time. Their motivation is their love for live theater.
"What we do is promote and perpetuate the art of theater," Tom said. "Our job is to keep the art of theater moving forward."
In the process of doing that, Tom, his colleagues and our students are enhancing Southern Illinois' quality of life.