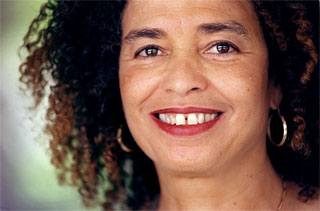 January 31, 2014
Angela Davis highlights Black History Month
CARBONDALE, Ill.  -- Author, educator and social justice activist Angela Y. Davis will speak at Southern Illinois University Carbondale on Feb. 13. 
Davis' appearance is one of the highlights of "Black History Month 2014:  Civil Rights in America."  A kickoff celebration and campus and community meet-and-greet is at 4:30 p.m. Monday, Feb. 3, in the Morris Library Rotunda. 
Davis is the distinguished professor emerita of both history consciousness and feminist studies at the University of California, Santa Cruz.  She has taught at San Francisco State University, Mills College, University of California Berkeley, UCLA, Vassar, the Claremont Colleges and Stanford University.  
Economic, racial and gender justice have been the focus of her research and career.  In recent years, Davis' work has concentrated on the social problems associated with incarceration and how criminalization affects some communities.  
Davis is the author of "Abolition Democracy" and "Are Prisons Obsolete?" as well as "Narrative of the Life of Frederick Douglass," the essay collection "The Meaning of Freedom," and other works.  She is a founding member of Critical Resistance, an organization dedicated to abolishing the "prison industrial complex," and she asks audiences to consider the possibility of a future world without prisons. 
Davis' presentation is at 7 p.m. at Shryock Auditorium.  The event is free and open to the public.  Doors open at 6:30 p.m. 
Davis was on the FBI's "Ten Most Wanted List" in the early 1970s and spent 18 months in jail while awaiting trial on charges in connection with an aborted prison escape.  The subject of an international "Free Angela Davis" campaign, Davis was found not guilty and released in 1972.  
The film "Free Angela Davis and All Political Prisoners" will also be shown at 6 p.m., Feb. 12, in Lawson Hall, Room 231.  There is no cost to attend and everyone is welcome. 
The complete schedule for the university's Black History Month 2014 is available online.