January 17, 2014
Sylvia Puente to discuss Latino policy Jan. 27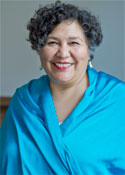 CARBONDALE, Ill. -- Sylvia Puente, executive director of the Latino Policy Forum, will speak about Latino policy in Illinois at Southern Illinois University Carbondale.
Puente will present "Fuerza Latina: A Paradox of Success and Hardship," on Jan. 27 in Student Center Ballroom B.  The luncheon is from 11:30 a.m. to 1 p.m.  The Paul Simon Public Policy Institute is sponsoring the event.
The luncheon and lecture are free and open to the public, but seating is limited and advance registration is required for meal considerations.  To register, contact Vanessa Sneed, institute project coordinator, at 618/453-4004 or by email at vsneed@siu.edu by Wednesday, Jan. 22.  Open seating will be available for those who wish to only listen to the speech and not be included in the meal.
"The growth of the Latino population in Illinois and the United States is transforming society, from music to media to politics," said David Yepsen, institute director.  "It's important all of us understand what is happening and what it means.  For people interested in public policy, this growth raises questions of creating more jobs and expanding educational and health care opportunities for that community."
Puente, who has a variety of experiences serving the Latino community over 25 years, became executive director of the Chicago-based organization in January 2009.  The Latino Policy Forum is the only public policy and advocacy organization in the Chicago area working on building influence and leadership of the Latino community.  The work includes improving educational outcomes for children, making housing accessible and affordable, and promoting just immigration reform.
Puente is on the board of "Advance Illinois," a public policy agency that works to improve education in Illinois, and she is also a member of the Illinois State Board of Education's Education Funding Advisory Board.  Hispanic Business magazine also recognized Puente as one of the "100 Most Influential Hispanics in the U.S." 
Puente earned a master's degree from the Harris School of Public Policy at the University of Chicago and a bachelor's degree in economics from the University of Illinois at Urbana-Champaign.
For more information on the program, contact the institute at 618/453-4009 or visit paulsimoninstitute.org/.