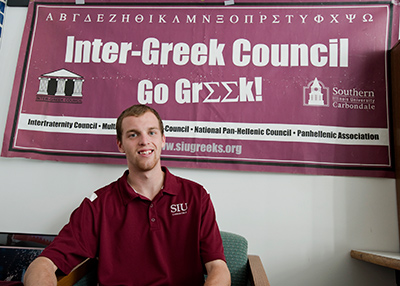 December 27, 2013
Greeks have positive impact on campus and in communities
Fraternities and sororities are important threads in the fabric of our university. I know from my frequent interactions with members of our Greek community how much they care about, and contribute to, the campus and the communities we serve. SIU Greeks are out in force every August, helping with the many activities that welcome new students to campus, including move-in. They are enthusiastic ambassadors during open houses and new student orientation sessions. And they are leaders of campus and community service efforts.
Academic success also is a priority. For example, for last spring semester, Greek members who live in a fraternity/sorority house had Grade Point Averages above the all-SIU Grade Point Average.
Bryce Webster-Jacobsen, a senior from Woodstock, Ill., who is pursuing a double major in psychology and sociology, is a great advocate for his fellow Greeks and their efforts to maintain a positive image. He joined Phi Kappa Tau during his freshman year, only to learn later that the chapter was being placed on probation. It was during that challenging period that he was elected fraternity president for 2012, which speaks to the confidence the other members had in his leadership skills.
Thanks to Bryce's commitment and that of his fellow members, the fraternity completed the probationary period a week after he began his year as president. He is the vice president this year, and also serves as the president of our Inter-Greek Council, which is the legislative and coordinating council for all 32 fraternities and sororities. I know from my conversations with Bryce at council meetings and various campus events what a great ambassador he is for Greek life and for SIU.
"Service is a big part of who we are," he said. "Fifty percent of the student body's service hours are done by just over 700 students – the Greeks. That isn't just roadside cleanups, either, though those are important. It's participating in new student move-in, planting trees in Thompson Woods, participating in and helping with charitable events, such as the recent Up 'til Dawn fundraiser. Within my fraternity, we do philanthropy for the SeriousFun Children's Network, which runs camps for chronically ill children."
I met with the Inter-Greek Council a few weeks ago, and was impressed by the members' commitment to growing the Greek community – there are two new fraternities and two new sororities this fall -- by making a positive difference.
"Not everybody is going to go Greek, and we understand that," Bryce said. "We just want people to know that we are here to give back to the student body, the university, and the community."
In addition to his Greek responsibilities, Bryce also serves as a Saluki Peer Mentor to new freshmen. He has been involved in our New Student Programs initiatives since his sophomore year.
"It's crucial that you get started on the right foot," he said. "When you are in your late teens and early 20s, that is a time of a lot of change. I want to help students learn and grow."
He hopes to eventually become a vice president for student affairs at a large university. With his many contributions as a leader and a mentor, I am confident big things are within reach for Bryce.