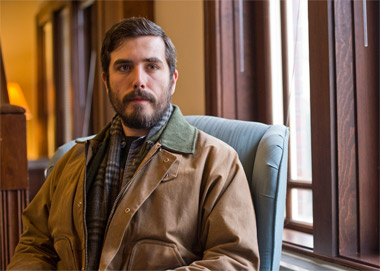 December 13, 2013
Non-traditional student finds his niche at SIU
With students from all 50 states and more than 100 countries, our university is one destination for every journey. And on Saturday, nearly 1,800 students will take the next step in their personal journeys as they earn undergraduate, graduate and professional degrees.
As an 18 year old, earning a college degree was not a priority for Lonnie Mann III, whose focus was on a military career. Motivated by 9/11, he joined the Army shortly after graduating from Marion High School in 2002. He trained as a mental health specialist and was stationed at Brooke Army Medical Center in San Antonio, Texas. However, an injury he sustained during training eventually led to a medical discharge.
He remained in the San Antonio area, working at "odd jobs," as he calls them. He subsequently relocated to St. Louis to be closer to his mom, and ultimately decided to take advantage of his GI Bill benefits.
"My plan all along was to retire from a military career," he said. "I had all my eggs in that one basket. So I had to figure something else out, and I went down a rather curvy path that eventually led me to SIU."
Though he had never visited the campus, Lonnie enrolled in 2008 as a first-generation, non-traditional freshman. He initially pursued an art education major, but realized he wasn't interested in teaching.
"I decided the way for me to combine my artistic talent with my desire to help other people fit well within industrial design," he said.
Lonnie's hard work and success have been inspiring. He is a member of our prestigious University Honors Program, and he earned one of 20 annual grants through our competitive Research-Enriched Academic Challenge (REACH).
He also earned a Wingate Foundation grant through our School of Art and Design, and he has been a McNair Scholar, the program named for the late astronaut, Ronald McNair. Participants are typically first-generation college students from low-income families or groups traditionally underserved in higher education. Our goal is to help the students develop the skills needed for success in graduate school.
Attending REACH and McNair Scholars events is a real treat for me. I enjoy meeting with the students and learning about their passion for creating new knowledge. I find their enthusiasm contagious.
Lonnie is using his talents to help others. Last year, he won the Industrial Designers Society of America's Best in the Midwest Award for a Hepatitis C virus test he developed. A second generation of that device won a silver award in international design competition.
"As designers, we listen, we find out what the problem is, and then we try to make products or systems that can solve those problems," he said.
Lonnie plans to spend the next two years as a Court Appointed Special Advocate for children. He then hopes to pursue an advanced degree in industrial design at SIU or attend medical school.
On Saturday, Lonnie's mom, Donna Smith, and his 7-year-old son, Lonnie IV, will watch with pride as he graduates magna cum laude, or "with great honor," during commencement at the SIU Arena. He certainly has earned that distinction. I look forward to wishing him and all the members of the Class of 2013 continued success.