December 09, 2013
Fall commencement ceremony is Saturday
CARBONDALE, Ill. -- Commencement exercises for fall 2013 graduates at Southern Illinois University Carbondale are set for Saturday, Dec. 14.
The commencement ceremony begins at 2 p.m. at the SIU Arena. As of Dec. 3, there are 1,776 candidates for degrees: 1,295 for bachelor's degrees, 372 candidates for master's degrees, 87 candidates for doctoral degrees, 16 candidates for law degrees, and six candidates for associate degrees.
---
Media Advisory
Reporters, photographers and camera crews are welcome to attend the commencement ceremony.
---
The commencement ceremony is open to the public and tickets are not required. More information about the ceremony is available at commencement.siu.edu/.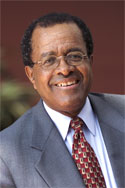 James M. Rosser, a three-degree graduate and former faculty member of SIU Carbondale, will be the keynote speaker.
At the time of his retirement as the sixth president of California State University, Los Angeles, on June 30, Rosser was the longest serving four-year public university president in the nation.  Rosser began his tenure at California State University in 1979.
A native of East St. Louis, Rosser earned his bachelor's and master's degrees in microbiology in 1962 and 1963, respectively, and his doctorate in health education from SIU Carbondale in 1969. Rosser also served as a faculty member, assistant to the chancellor and was founding director of the university's Black American Studies Program.
Prior to Rosser's appointment at California State University, Los Angeles, Rosser served as vice chancellor of New Jersey state Department of Higher Education and was appointed acting chancellor in 1977.  Rosser's other positions include serving as a tenured faculty member and senior associate vice chancellor for academic affairs at the University of Kansas, where he also served as a member of vice chair of the editorial board of the University Press of Kansas.
Rosser earned an honorary Doctor of Humane Letters Degree from SIU Carbondale in 2003.
His background in the health care delivery field also earned him a number of appointments in that area. He worked as a researcher in microbiology for the Eli Lilly Co. before returning to SIU Carbondale to earn his doctoral degree.
His numerous awards include the 2012 Reginald Wilson Diversity Leadership Award from the American Council on Education, and the 2008 Frank W. Hale Jr. Diversity Leadership Award from the National Association of Diversity Officers in Higher Education and the Presidents Award for Diversity from ABET. Rosser also was an Aspen Scholar for the 1995 Aspen Institute's executive seminar and also received the National Science Foundation's Educator Achievement Award in 1995.