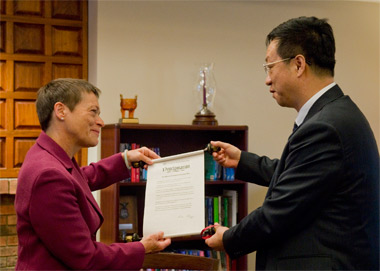 Enriching partnership – Chancellor Rita Cheng and Northeast Normal University President Liu Yichun take a moment to review a proclamation that declared Friday, Nov. 22, as Northeast Normal University Day at SIU in honor of a 30-year partnership between the two institutions. (Photo by Steve Buhman)
November 25, 2013
SIU celebrates 30-year partnership with Northeast Normal University
Chancellor Rita Cheng declared Friday, Nov. 22, as Northeast Normal University Day at SIU in honor of a 30-year partnership between the two institutions. 
Cheng welcomed NENU President Liu Yichun and a delegation from the Chinese institution at a news conference and reception, noting that the relationship is the university's longest active international partnership. NENU officials hosted a delegation from SIU in early October.
"We are celebrating is 30 years of trust, mutual respect, and friendship," Cheng said. "We believe this sends an important message to the world about how much we can accomplish together." 
Over the course of the partnership, nearly 100 NENU students have earned SIU degrees in the arts and other fields. An SIU Center that opened at NENU in 2009 helps recruit students from multiple institutions to SIU. And in October, Cheng and Liu signed an agreement that establishes a collaborative undergraduate program in accounting, originally proposed by NENU. 
"Our partnership has transformed the lives of students at both of our universities, inspiring them to have a positive impact throughout the global society," Cheng said.  "We look forward to working with our partners from NENU to create even greater opportunities for our students, our universities and our countries."