November 25, 2013
Ojewuyi receives Nigerian theater high honor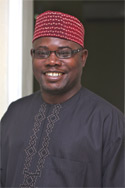 CARBONDALE, Ill. -- Olusegun Ojewuyi, associate professor and head of directing in the Department of Theater at Southern Illinois University Carbondale, has a deep regard for the theatrical tradition in Nigeria.  Theater professionals in Nigeria recently returned that admiration by bestowing on him a high honor.
The National Association of Nigerian Theater Practitioners named Ojewuyi a "Fellow of Theater Arts" at an investiture ceremony on Nov. 16, in Ibadan, Nigeria.  The honor is the highest professional recognition for theater arts in Nigeria.  NANTP presents the award to people who demonstrate "outstanding support, service and commitment to the development and growth of theater and the arts in Nigeria."
A highlight of Ojewuyi's contributions to this goal includes his role in bringing Nobel Prize winner Wole Soyinka to the SIU campus. Soyinka, winner of the 1986 Nobel Prize in Literature, visited campus in 2008, and was present for the Department of Theater production of one of his plays, "Death and the King's Horsemen," at McLeod Theater. Ojewuyi convened an international symposium, "Muse and Mimesis: Wole Soyinka, Africa and the World," to coincide with Soyinka's visit.
Ojewuyi was a "distinguished speaker" for Nigeria's National Institute for Cultural Orientation in 2011 and also directed the National Troupe of Nigeria on a performance tour in Israel that year.
The NANTP is a government-chartered regulatory and advisory body for theater and other arts in Nigeria. 
"As a Fellow, I join the highest council of Fellows drawn from the highest echelons of Nigerian academic, government and professional worlds," Ojewuyi said, noting his career devotion is promoting Nigerian theater arts.
"I have been a tireless critic and advocate for the efficacy of theater as a defining cultural expression," he said.  "Theater not only educates, but also provides society with the compass to navigate the most compelling issues of our social and personal human dilemmas."
"This award re-energizes my work as a teacher, mentor and artist of global intentions," he said.