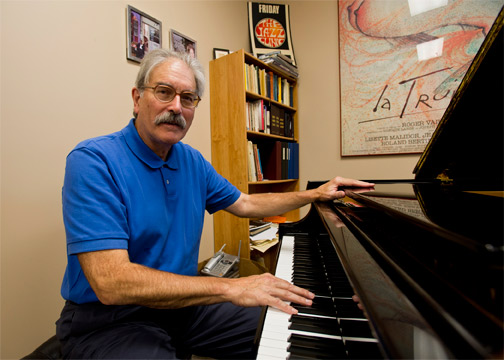 October 31, 2013
Creative talents inspire students, audiences
From the day they first step into the classroom, SIU students learn that big things are within reach. They benefit from lessons learned by accomplished faculty members who know what success looks like – and the hard work it takes to get there.
For 30 years, Professor Frank Stemper has been enriching the lives of our students and audiences here and around the globe with his compositions and piano artistry. SIU's composer-in-residence, Frank also has been director of Graduate Studies in the School of Music since 1996. He is the founder of the Center for Experimental Music, a state-of-the-art computer composition facility. Frank also teaches modern music history, and the one to two dozen students who come to him each year for one-on-one mentoring so they can follow in his footsteps.
Frank and I share a Wisconsin heritage – he is from Milwaukee -- though our paths had not crossed until I came to SIU in 2010. He traces his love of music in part to his mother, who was a jazz singer. When it was time for college, he enrolled in the pre-medicine program at the University of Wisconsin-Madison. After two years, his passion for music was too strong, and he transferred to the University of Wisconsin-Milwaukee.
"At Milwaukee, just like at Madison, they told me I couldn't be a musician because I couldn't sight-read," he said. "But I got into the composition program. I never knew there were composers. I thought they were all dead."
His educational journey took him to the University of British Columbia, Stony Brook University in New York, and the University of California, Berkeley, earning bachelor's, master's and doctoral degrees respectively.
Frank describes his music as "very busy and crazy jazz."
His compositions have been performed in such notable venues as Carnegie Hall and the John F. Kennedy Center, and in 17 countries. He has more than 80 compositions to his credit, and he considers a piece requested by SIU music Professor Edward Benyas, who also is music director of the Southern Illinois Symphony Orchestra, to be the high point of his career.
"In 2002, Ed asked me to write a piece commemorating the approaching 100-year anniversary of the symphony," Frank said. "This was soon after 9/11, and he suggested making it a 9/11 piece. But I didn't want to exploit that."
After working on "Secrets of War" for several months, however, Frank found he was in fact writing a 9/11 piece.
"It was the high point of my career because I realized I had been composing as an intellectual endeavor," he said. "But this project related to life, to something real. It seems like since then, I am doing that with every piece I write."  
That is true of "Confluence," which Frank completed this fall in honor of the 30th anniversary of SIU's relationship with Northeast Normal University in China. The piece was performed by MODERNE, a recently formed ensemble of our graduate students, and "premiered" via DVD during a celebration at Northeast Normal earlier this month. I look forward to a live premiere of "Confluence" by the ensemble when colleagues from China visit SIU later this fall.
As is true with faculty across the campus, Frank is a wonderful ambassador for SIU and an inspiration to students.