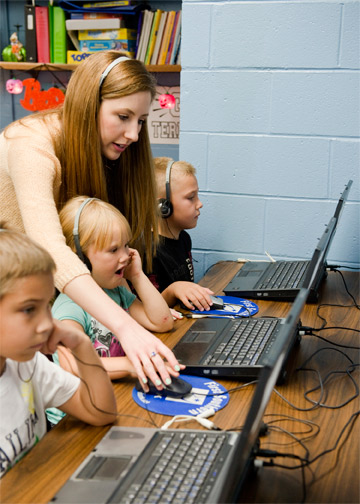 October 25, 2013
AmeriCorps students contribute in schools, communities
SIU students are passionate about making a positive difference in our communities and schools. Through our Center for Service-Learning and Volunteerism, they work with more than 60 regional partners focused on education, mentoring, art and culture, health, downtown revitalization, and youth development.
The time they devote is impressive – 34,000 hours last school year. I also appreciate how much of a balancing act that requires; in addition to academics and other campus activities, many of our students work and have family responsibilities.
One of our longest-running affiliations, dating to 1995, is with AmeriCorps. Over the past 18 years, 145 SIU students have participated in the Land of Lincoln AmeriCorps chapter, which was the first AmeriCorps program in Illinois and includes five area community colleges. Our students gain valuable experience as they mentor and tutor children in the Carbondale and De Soto elementary school districts, the Unity Point school district, the Boys and Girls Club of Carbondale, the I Can Read program, and the Science Center of Southern Illinois.
Mount Vernon native Jenna Pelaez, a senior in communication disorders and sciences, knows the value – and expectations -- of AmeriCorps. She spends three full days a week working with one of Unity Point's speech-language pathologists as she prepares for a career in that field. She also carries a full course load and participates in two student organizations.
Jenna is now in her fourth year with AmeriCorps; she participated during both of her years at Rend Lake College. This is her second year at Unity Point. 
"I love kids," Jenna said. "I ask them questions about how they're doing, how their day is, I just want them to know that I care and want to help them. They always make me smile."
And the work she is doing with kindergarten through third grade students matters. As a parent and an educator, I know that early intervention by speech-language pathologists is critical to the speaking, reading and learning abilities of the children. Kathy Booziotis, a speech-language pathologist at Unity Point and two-degree graduate of SIU, said they address a variety of learning challenges among the students. Some have an Individualized Education Program, while others do not but have impairment issues that affect their ability to learn.
"Through early intervention, we are providing a boost to the kids," Kathy said. "Maybe they didn't attend pre-kindergarten, or perhaps they have trouble learning in large groups. The services we are providing help them in the classroom."
She supervised Jenna last year and is doing so again this year.
"Jenna is really good with the kids," Kathy said. "She does things right, she does them well. She is very conscientious."
The impact of our nine AmeriCorps students is profound. Last school year, 77 percent of children in kindergarten through second grade tutored by our students had significant improvement in their reading scores. For students in third through eighth grades, 76 percent of those tutored improved their grades and 73 percent improved their homework completion rate.
I appreciate the significant contributions of Jenna and her fellow AmeriCorps members. Big things are within reach for these students as they ensure that also will be true for those they mentor.
(In the photo: Senior Jenna Pelaez works with Unity Point kindergarteners (from left) Princeton Keene, Hailey Kimball, and Bobby Burgess.)