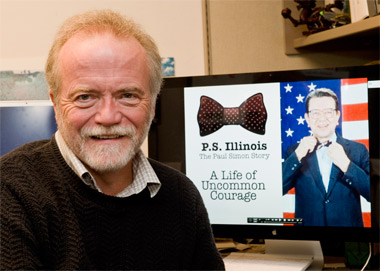 October 17, 2013
WSIU-TV valuable for students, region
Our public broadcasting television station, WSIU-TV, can reach more than 3 million friends and neighbors across five states. Students play a key role as they gain valuable hands-on experience on-air, behind the scenes, and through the station's many community service efforts.
I know from my frequent interactions with the WSIU staff that our students are learning from very dedicated and skilled professionals, including senior television producer Jak Tichenor. The Metropolis native and two degree graduate of our university has been a familiar voice – and presence -- on the radio and TV stations for more than three decades. He gladly shares his extensive knowledge about the profession, our region and our state to help students prepare for meaningful careers.
"We're able to do a lot more than a typical PBS station of our size and in this size market because of the students," Jak said.
He traces his love of broadcasting to listening to rock and roll on the radio in the late 1960s. Jak got his first taste of working in the industry in 1970, when he spent a few weeks helping out at the Metropolis radio station as a 15 year old. The following year, he found himself on the air handling a weekend show.
He then became a disc jockey and commercial announcer at a Paducah radio station, which helped him work his way through Shawnee Community College and SIU. By the time he transferred to SIU, Jak had already worked in radio for seven years.
He joined WSIU radio as news director in 1981 and then brought his extensive news experience, which included coverage of the Illinois General Assembly, to WSIU-TV in 1991.
Jak has been involved in several long-running and important programs. I am confident that like me, many of you appreciate the "Illinois Lawmakers" programs that Jak hosts – and that air statewide -- during the later stages of the legislative session each spring. For the past 17 years, he also has served as lead producer of a special broadcast that allows PBS station viewers throughout the state to "meet" the distinguished recipients of the annual Lincoln Academy awards.
As time has allowed over the past few years, Jak also has been conducting interviews and research for a documentary on Paul Simon, the late U.S. senator and founder of the institute on our campus that bears his name. The program will premiere at 9 p.m. on Oct. 24.
Jak also takes pride in sharing many of the positive stories about SIU with a wide audience.
"A lot of what I've done has been directly associated with calling attention to the university's contributions to public service, research and teaching," he said.
Jak and his colleagues at WSIU have helped hundreds of students over the years go on to significant careers.
"They get experiences here that very few mass media academic programs in the country can top, which includes working with dedicated professionals across our operations who are second to none," he said. "Very few stations let students work on the equipment. WSIU is a true pioneer in the radio and television field, and now in digital media."
It is that commitment to students and to serving our region that makes WSIU such a valuable resource.