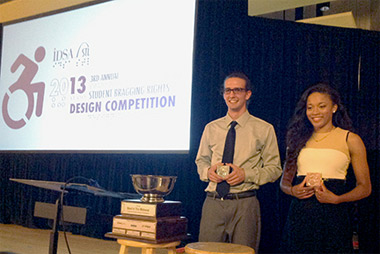 Industrial design award winners: Christopher Faller of Springfield and Briana Royster of Flossmoor, industrial design students at Southern Illinois University Carbondale, headed the interdisciplinary team that won the 2013 "Student Bragging Rights" competition, hosted by the St. Louis chapter of the Industrial Design Society of America.  (Photo provided)
October 17, 2013
SIU students win third straight design contest
CARBONDALE, Ill. -- For three years, the St. Louis chapter of the Industrial Design Society of America has offered a collegiate competition, the Student Bragging Rights Design Competition, and for three years, Southern Illinois University Carbondale industrial design students have won it.
In fact, SIU's lock on the contest is so strong the competition organizers have asked Aaron Scott, assistant professor in the School of Art and Design and mentor for all three winning teams, to explain SIU's approach and structure for other collegiate teams to use as a model. 
Here's how the competition works: The IDSA St. Louis chapter names its challenge, interdisciplinary teams of students design a product to answer that challenge, and then they present their design idea -- and a marketing plan for it -- in a professional environment.  The team voted best overall -- in design, presentation, and marketing plan -- wins.
This year's challenge was: "Deliver an innovative product to improve accessibility in the workplace."  The design teams were to design a product addressing one disability, specifically blindness, deafness, use of only one arm, or use of a wheelchair.  The product was to improve work conditions for someone with the disability the team chose to explore.  A further requirement was that no one in the team could have the disability the team addressed. 
The SIU design team of Christopher Faller of Springfield and Briana Royster of Flossmoor took on deafness.  They polled and interviewed hearing-impaired professionals and found that a major challenge many said they face is fully participating in group discussions at work.
The students' answer to the challenge is the D.scribe Communication Eco-System.  The system provides a transcription of conversations among multiple speakers as they occur.  This enables the hearing-impaired professional to follow the conversation more easily and contribute to it.
"The team found that there is voice transcription technology and there is voice recording, but there didn't seem to be anything linking the two things in this way," Scott said.  "What's exciting about this project is the students go from 'can we do this?' to 'how do we do it?'"
A hallmark of the competition is the requirement for interdisciplinary collaboration. The design team worked with other design students, computer science students and experts to achieve a workable design -- a model of which they brought with them to the competition, Scott said.
The SIU community has the opportunity to see the winning design:  Faller and Royster entered their design in the 2013 Saluki Idea Competition.