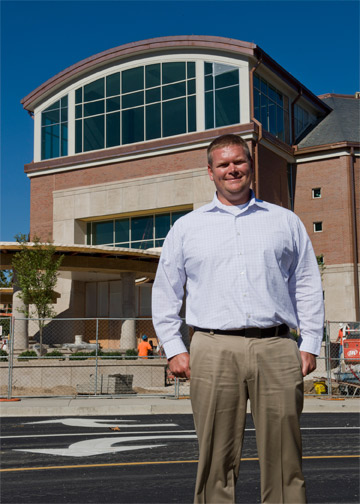 September 26, 2013
Staff member contributes to student success on and off campus
A few weeks ago, SIU earned the designation as a "Military Friendly School" for the fifth consecutive year. Victory Media, whose publications include G.I. Jobs magazine, annually recognizes the top colleges and universities for active-duty military personnel and student military veterans.
Our commitment to meeting the educational needs of those who sacrifice so much for all of us is longstanding. SIU was among the first universities in the nation to offer off-campus academic programs to military personnel, starting in 1973 at Scott Air Force Base. Today, we serve active-duty personnel at 21 military bases in 13 states, as well as several other off-campus locations.
Matt Bacon is one of the people who facilitates those efforts. Matt describes himself as "a utility player" on campus, helping where he is needed. I consider him to be a key contributor because his skills and versatility make a positive difference in multiple areas. In our Office of Distance Education and Off Campus Programs, for example, he works closely with our academic departments, on-campus advisers, and the bases to ensure a seamless experience for the men and women in uniform.
A West Frankfort native and two-degree graduate of SIU, Matt joined our staff in 2006. He works primarily in the registrar's office, scheduling classrooms, final exams and special events in classrooms.
He also visits dozens of classrooms every semester and compiles a list of needed repairs and improvements. I appreciate his attention to detail, because upgrading the teaching and learning environment is a priority for us. We are currently renovating 61 general-purpose classrooms. When the work is completed, 92 percent of our classrooms will be technology-enabled.
In the Office of Distance Education and Off Campus Programs, Matt maintains close relationships with instructors and advisers on the military bases.
"I work with the bases and with the academic departments to build a course sequence that's going to work for the students," he said. "We want them to get through their degree programs in as short an amount of time as possible because they may get deployed."
After spending six years in the Air Force, Matt also is an important advocate for our military students. He understands their constraints, as well as the requirements related to education benefits.
"I've been on that side of it, so I know how hard it is to take classes," he said. "Before, there wasn't any military experience in this office, so those students were treated just like on-campus students. The people in the military have time constraints; they're working every day. We have to help them build a class schedule that works for them."
They also lack the direct access to services that are available on campus.
"Since I also work in the registrar's office, I am their direct line to Enrollment Management's services," Matt said. "If someone on a base has a problem or a question for the bursar's office, financial aid, or with transcripts, I can go directly to those offices to get issues resolved."
Thanks to Matt and so many other dedicated SIU employees, big things are within reach for our students – no matter where they are studying.