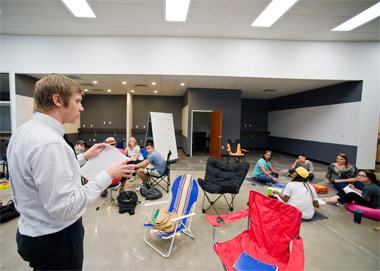 September 05, 2013
Students learn value of teamwork
One of the most important lessons we share with our students is the value of collaboration.
Aaron Scott's industrial design and communication design students do that in class, but they also get out of their "silos." When I talk with Aaron, his passion for teamwork is evident.
"We don't hold a patent on innovation," he said. "It happens everywhere. Design reaches out and says 'We have this idea, let's partner up.'"
Aaron, an assistant professor of design, joined the faculty in 2009. He earned a bachelor of fine arts degree in three-dimensional design from Weber State University, and a master of fine arts degree in industrial design from Purdue University. Aaron's students benefit from his varied background, which includes product design and sales and marketing.
Industrial design, he explained, is more product and service-oriented, while communication design involves more visual communication and interaction.
"We want our students to be problem-solvers," Aaron said. "I want them to identify situations where they can make improvements. They have to understand that everything they produce has meaning."
The students in his senior-level industrial design class are preparing to compete later this month with teams from other universities for "Best in the Midwest Bragging Rights" during an event sponsored by the St. Louis chapter of the Industrial Design Society of America.
Their task is to come up with an innovative way to improve access and the experience of people with disabilities in the workplace. They are shadowing two disabled individuals to better understand the challenges they encounter.
 "The students become social anthropologists," Aaron said. "They have to figure out a problem, come up with a solution, develop a prototype and present it. This also is about universal design. Something that is good for a disabled individual should be good for a non-disabled individual as well."
I also appreciate the collaboration of Aaron's graphic design class with MBA students on game development. His students will create a product, and the MBA students will develop a marketing platform for it. They then will launch their creation through the online platform Kickstarter.
"These are not just fun games, these are games that address social problems, games that tackle more serious issues, or even training exercises for individuals," Aaron said.
Later in the semester, his students will partner with electrical engineering students to learn basic programming.
"We want to use our expertise, combined with other people's expertise, to create systems that solve problems," he said.
With his private sector experience, Aaron understands the demands of the workplace. He wants his students to be prepared.
"We discuss clearing your mind, doing breathing exercises," he said. "If I can teach them coping mechanisms for some of the things they will face outside of school, such as deadlines and cost restraints, hopefully they will thrive."
I am impressed, also, by Aaron's mentoring, and that of fellow faculty members in the School of Art and Design. Their efforts extend beyond academics – even making sure students are eating breakfast.
"Going into education, you have to care about others," Aaron said. "It's just part of the persona of the educator."
That's what we mean when we talk about the brains and the heart of SIU.