September 24, 2013
John Caputo to present Tenney, Leys lectures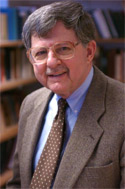 CARBONDALE, Ill. -- When philosopher John D. Caputo sees "WWJD" on a bumper sticker or t-shirt, he doesn't automatically ask himself, "What would Jesus do?"  He asks instead "What would Jesus deconstruct?"
No, it's not a reference to Jesus' association with carpentry.  It's a term for a particular kind of philosophical thinking and one that Caputo claims is good news for religion.
Caputo, the author of more than two dozen books will deliver the Charles D. Tenney Lecture at Southern Illinois University Carbondale at 7:30 p.m., Oct. 7. The lecture is in Student Center Ballroom D, and is free and open to the public.
His lecture, "Why Postmodernism is Good News for Religion," builds on his recent book, "What Would Jesus Deconstruct?: The Good News of Postmodernism for the Church."  Caputo's method is to take apart and examine (deconstruct) every aspect of commonly held assumptions and beliefs, in this case, about the Gospel story, Jesus, and church heroes. He says this is "good news" for the church because a by-product of this de-constructing is the laying bare of the essential truths or teachings.
A distinguished professor emeritus at Syracuse and Villanova universities, Caputo realizes his scrutiny of basic Christian tenets makes some people uncomfortable.  He makes note of it in the introduction of his book.  However, he challenges his audiences to tread a line between philosophy and religion as they examine their own beliefs so as to understand them better.
Caputo will present the Wayne Leys Memorial Lecture, sponsored by the Department of Philosophy, beginning at 7:30 p.m., Oct. 8, in the John C. Guyon Auditorium of Morris Library.  The title of this lecture is "Living with the Event, Living Without Ethics."
The University Honors Program sponsors the Charles D. Tenney Lecture Series.  The Department of Philosophy hosts the Leys Lecture Series.