September 23, 2013
Garvey named interim vice chancellor for research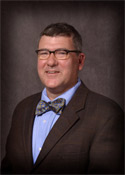 CARBONDALE, Ill. -- James E. Garvey, a professor of zoology and director of the Center for Fisheries, Aquaculture and Aquatic Sciences at Southern Illinois University Carbondale, is the university's new interim vice chancellor for research. His appointment was approved by the university's Board of Trustees effective Sept. 16, 2013.
In his new role, Garvey will guide university initiatives related to research, scholarship, creative activity and technology transfer. Last year, university researchers received $61.5 million in grants, disclosed 18 inventions, filed 15 U.S. patent applications and received four patents.
"Research is core to SIU's mission as a national research university," said SIU Chancellor Rita Cheng, who announced the appointment. "Dr. Garvey brings to this critical role a commitment to enhancing research and scholarship across the disciplines and a deep knowledge of the challenges and opportunities we face as we expand our efforts. He also has a stellar track record in research within his field and will be an outstanding advocate for research and creative activity across the university."
Garvey said the focus of his new role is to "empower all the great researchers at SIU to achieve their potential."
"I hope to ensure that our students – from freshmen to doctoral candidates – get the very best research-enriched experience possible so that they can be successful after graduation," he added. "This means that they must have access to the best faculty and modern facilities in a nurturing but demanding environment.
"SIU is building from a strong foundation," Garvey continued. "We are upgrading laboratories, planning construction of a multi-discipline research building, and have world-class instrumentation and equipment at our fingertips. And we have faculty and students who are engaged in groundbreaking research and creative work."
Garvey joined the SIU faculty in 2000 and in 2005 became associate director of what was then called the Fisheries and Illinois Aquaculture Center. He became interim director of the center in 2008 and director in 2009.
Prior to coming to SIU, he was an assistant professor at Kansas State University; a postdoctoral fellow at Queens University in Ontario, Canada; and a research associate at The Ohio State University, where he earned his master's and doctoral degrees in zoology. He earned a bachelor's degree in zoology from Miami University in Ohio.
Garvey has received more than $5 million in grants supporting research on aquatic and fish ecology and other areas while at SIU. He is widely published in his field and has held technical and advisory roles with the National Science Foundation, U.S. Army Corps of Engineers, the U.S. Fish and Wildlife Service, the U.S. Environmental Protection Agency and other organizations.