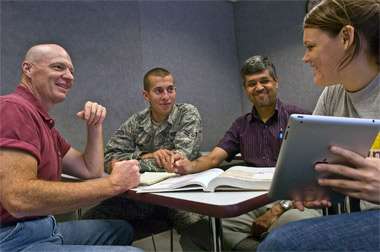 September 09, 2013
SIU strengthens commitment to student veterans
CARBONDALE, Ill. -- Southern Illinois University Carbondale is strengthening its nationally recognized commitment to student military veterans by implementing a national, eight-step program designed to help veterans achieve their education and employment goals.
SIU Carbondale is one of more than 250 universities and community colleges across the United States implementing the "8 Keys to Success" introduced recently by the Obama Administration to help veterans on campus.
The aim is to aid veterans in their efforts to complete their college degrees, certificates, industry-recognized credentials and licenses in preparation for the jobs in high-growth sectors of the economy, according to the U.S. Department of Education.
"SIU is extremely committed to supporting veterans within and outside of the classroom," said SIU Chancellor Rita Chang. "Participation in the President's program is a natural extension of our on-going work helping veterans receive a quality education that will lead to rewarding employment. We're very proud to have the opportunity to participate."
The Obama Administration's "8 Keys to Success" include:
Create a culture of trust and connectedness across the campus community to promote well-being and success for veterans.
Ensure consistent and sustained support from campus leadership.
Implement an early alert system to ensure all veterans receive academic, career, and financial advice before challenges become overwhelming.
Coordinate and centralize campus efforts for all veterans, together with the creation of a designated space (even if limited in size).
Collaborate with local communities and organizations, including government agencies, to align and coordinate various services for veterans.
Utilize a uniform set of data tools to collect and track information on veterans, including demographics, retention and degree completion.
Provide comprehensive professional development for faculty and staff on issues and challenges unique to veterans.
Develop systems that ensure sustainability of effective practices for veterans.
SIU's participation in the program will be overseen by its Veterans Service office.
"This university has a long history of supporting veteran students," said Paul Copeland, Veterans Service coordinator. "We are very excited about supporting implementation of these '8 Keys' locally."
SIU's Veterans Service office recently expanded services with the addition of United States Department of Veterans Affairs Veteran Integration to Academic Leadership (VITAL) program staff and GI Bill enrollment certification.  The university also recently signed a Memorandum of Understanding with "Hope for Warriors" to bring additional resources for veterans onto campus..
The university serves approximately 700 student military veterans on the Carbondale campus. This fall, there are 245 veterans and 57 family members attend SIU on the Post-9/11 GI Bill. 
Nationally, the VA has issued approximately $30 billion in Post 9/11 GI-Bill benefit payments since its inception in August 2009, and helped nearly one million service members, veterans, and their families pursue their education.  
SIU Carbondale annually earns honors as being among the nation's top military-friendly colleges and universities from "Military Advanced Education" and "G.I. Jobs" magazines.  In 2010, the university earned the inaugural Governor's Award for Excellence in Veterans Education, recognizing SIU Carbondale's efforts to enhance the educational experiences of student military veterans.