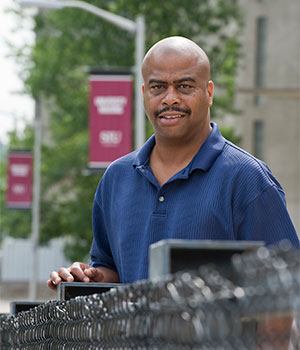 August 15, 2013
Housing staff engages, mentors students
We are welcoming students this week to our campus, community and region. The dramatic increase in the number of freshmen is especially exciting, as the Class of 2017 is one of the largest freshman classes in the past 20 years. Students began moving into the residence halls on Thursday, and move-in continues through Saturday.
Those halls are far more than just buildings with rooms. They are vibrant communities where students live, learn, and are actively engaged in a broad array of programs. The staff of University Housing is dedicated to providing residents with a positive experience.
That is a role that Todd Bryson embraces. An assistant director of University Housing, Todd gets students involved in campus activities, and he helps bring student organizations and various campus offices together to plan successful events.
Many of you know the Bryson family and their many contributions to SIU and the community. Todd's parents, Seymour and Marjorie, are SIU alums. In fact, between Seymour, Marjorie and their three children, the family boasts nine degrees from SIU! Todd, a Carbondale Community High School graduate, earned his master's degree here in 2008. Seymour, who came to SIU as a student in 1955, retired in 2008 as associate chancellor for diversity after a distinguished career that included academic and administrative roles.
I know from my interactions with him that Todd is very much a people person; he connects easily with students and families. His background includes 11 years in sales and seven years working with a federally funded program for disadvantaged youths in three states. In 2008, he became assistant director of operations and facilities at our Student Recreation Center, and he joined University Housing earlier this year.
During his tenure at the "Rec Center," he hired and supervised more than 160 student employees, while also assisting with open houses, swimming and track meets, and other activities. In other words, Todd will help whenever help is needed. I also know him to be an effective mentor. His reward is the inspiration he draws from students.
"Students are the foundation of our future," he said. "I learn more from my conversations with students than I did from any textbook. They help you understand the world from a different perspective."
Todd also is a great ambassador with parents, something I often see during open houses and orientation sessions for new students. During an orientation session this summer, for example, Todd and another member of the University Housing staff stopped to answer questions from two families.
"We spent about 30 minutes with them. I gave the students ideas about campus jobs, and then I followed up with e-mails with more information," he said, adding that he stays in touch with many parents even after their students have graduated.
"Every parent wants to know that their child is going to be OK, and I enjoy giving that assurance," Todd said. "I came back to SIU because I know what we have to offer."
Our students bring great energy to campus as well as optimism about the big things that are within reach. Thanks to Todd and the other members of the University Housing staff, our new students – and their parents – are in for a great year.