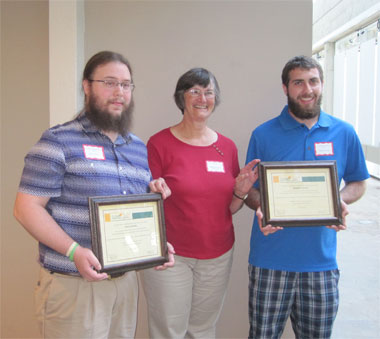 Students honored -- Southern Illinois University Carbondale students Kyle Clymore, left, of Creal Springs, and Andrew Haller, right, of Loves Park, recently earned Outstanding Museum Students for 2013 honors from the Southern Illinois Museums Association.  With Clymore and Haller is Margaret Loomis, museums association president.  (Photo provided)
August 27, 2013
Clymore, Haller, earn museum studies honors
CARBONDALE, Ill. -- Two Southern Illinois University Carbondale students are being honored by the Southern Illinois Museums Association as Outstanding Museum Studies Students for 2013.
Kyle Clymore of Creal Springs and Andrew Haller of Loves Park are seniors majoring in art.  Museum Studies is an interdisciplinary minor offered by the College of Liberal Arts.
Margaret Loomis, SIAM president, announced the awards during the organization's annual meeting, held at University Museum, earlier this month.  Dona Bachman, University Museum director, nominated both students.
Clymore, a lifelong Southern Illinois resident, credits his interest in drawing and studying the natural world around him for his interest in fine arts, and for creating his own drawings and paintings.  He holds an American Vision award from Cedarhurst Museum in Mt. Vernon for his original work.
A course in museology fired Clymore's interest in collections management and museums --an interest that grew during his student employment in the University Museum. Clymore expects to graduate this fall with a Bachelor of Fine Arts in arts education, and a Bachelor of Arts degree in international studies with a specialization in Asia and the South Pacific.  He has amassed several minors -- Japanese language, East Asian civilizations, art history, as well as museum studies.
Haller said his early visits to museums in Rockford sparked his interest in the arts.  He took every art class he could at his high school with the intent to become a graphic designer.  He changed his mind after taking a course in art history at a community college, and realized art history was his true calling, and art museums his ultimate career destination.
He currently works in the University Museum as assistant archivist.  He is learning the EmbARK record system and art storage techniques as he works alongside museum professionals at SIU Carbondale.  When he graduates, he will hold a Bachelor of Arts degree in art history with a minor in museum studies.