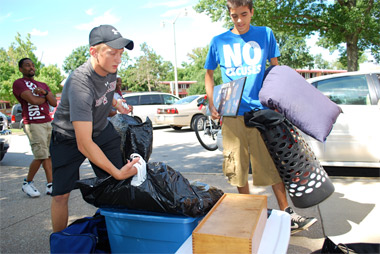 Looking to the future -- A new semester begins at Southern Illinois University Carbondale on Monday, Aug. 19, and Gage Barrows, left, and his friend Brock Grueter, right, both of Decatur, were among the 1,400 freshmen moving into University Housing on Thursday. More than 900 campus and community volunteers are helping students move in this week.  (Photo by Christi Mathis)
August 15, 2013
SIU welcomes largest freshman class in 20 years
CARBONDALE, Ill. -- Gage Barrows firmly believes big things are within reach. So much so, in fact, that he hopes to someday serve in Congress. For now, the Decatur teen is confident the college career he is beginning at Southern Illinois University Carbondale this week will prepare him for a fulfilling career as an attorney.
Barrows and thousands of other new students – members of the largest freshmen class in 20 years -- are moving in to residence halls this week.  Thousands more returning students will join them for the start of the semester on Monday, Aug. 19.
The Class of 2017 includes students from 30 states and 16 countries.
"We are excited to welcome such a large freshman class, as well as our returning students," Chancellor Rita Cheng said. "The students bring incredible energy and optimism to the campus and community, and we appreciate the opportunity to help them realize their dreams."
A Chancellor's Scholar, Barrows is participating in the Pre-Law Scholars program at SIU, which provides undergraduate educational experiences in law and assures acceptance into the law school after completion of a bachelor's degree.  A standout scholar and athlete, Barrows is a four-year varsity track triple jump and long jump team member, and a three-year varsity safety/wide receiver in football. 
As he began looking at colleges that would prepare him for a career in law and perhaps politics, Barrows heard many positive comments about the University. Since his wardrobe had virtually always included an SIU T-shirt, he decided to visit and see campus for himself.  What he found quickly sealed his decision.
"It seems like everyone at SIU really wants me to be there.  They really care about me," Barrows, the son of Cory and Lisa Barrows, said.  "And the campus is just amazing."
A member of the Decatur Lake Patrol, Barrows said he's also excited that two of his good friends are joining him at SIU.  Hometown buddy Brock Grueter, who will live just a few doors down, was helping Barrows move into Abbott Residence Hall Thursday.
Taniah Paden, the daughter of Lachelle Paden and Marcus Cain, is part of the freshman class as well.  Paden, who is from Kankakee, is a pre-med student and plans to be a doctor, perhaps a sports medicine physician.  Active in numerous activities in high school, including tennis, National Honor Society and serving as a certified peer mediator, Paden is also a Chancellor's Scholar. With three siblings, the scholarship is significant for the family, as it alleviates financial worries about college, she said.
Friends told Paden, her high school's class salutatorian, about the University, and she was hooked when she came to visit.
"Everybody is very friendly, the campus is really nice and the overall environment is great.  Now that I'm here, I look forward to the new experience and the changes.  I want to explore my options and get involved," Paden said. 
Courtney Kabat couldn't imagine herself anyplace but SIU.  After all, it's a family tradition that began when her great-grand grandmother, Clara Wagner, earned her teaching degree at the University.  Courtney's grandmother and father followed in Wagner's footsteps, as did Courtney's brothers.  Jordan is a 2011 mechanical engineering graduate, while Brock earned his undergraduate degree in physiology in 2012, and is now attending medical school at SIU.
A fourth-generation SIU student, Courtney plans to major in public relations with a marketing minor; her goal is a career in Chicago or Nashville where she can put her writing skills and love of people into practice. The Waltonville High School valedictorian participated in numerous activities in high school including volleyball, track and field, FCA, Scholar Bowl, and was a multi-year class officer who especially enjoyed her work on the student council.
"I'm really excited to come to SIU," said Kabat, a Dean's Scholarship recipient.
She is participating in the University Honors Program, already has a student job working in the financial aid/scholarships office, and is busy scoping out activities to get involved in on campus.  The daughter of Mark and Lori Kabat of Scheller, Courtney plans to attend the RSO and Volunteerism Fair on Aug. 22 to learn more about the hundreds of campus organizations. Intramural sports, Habitat for Humanity Campus Chapter, and helping at the Newman Center are already on her radar. 
Kabat, Paden, Barrows and their families all expressed amazement and appreciation at how quickly and smoothly the move-in process went for each of them. In just minutes, their belongings were in their rooms courtesy of some of the 900 campus and community volunteers there to lend a hand to the 1,400 new students moving in Thursday.  There was plenty of help assembling and bunking beds and handling other aspects of settling in, too, thanks to University Housing staff and volunteers. 
About 1,400 additional first-time students will move into campus residence halls on Friday, with about 1,200 returning students arriving starting Saturday.   Approximately 4,500 students will reside on campus this semester.
SIU welcomes Salukis to campus with a wide variety of special events and activities, kicking off with Saluki Startup, which runs today through Saturday, and features the Chancellor's New Student Convocation in Saluki Stadium at 5 p.m. Friday, Aug. 16.  The excitement continues with Week of Welcome, (www.WoW.siu.edu) which runs Sunday, Aug. 18 through Aug. 24.