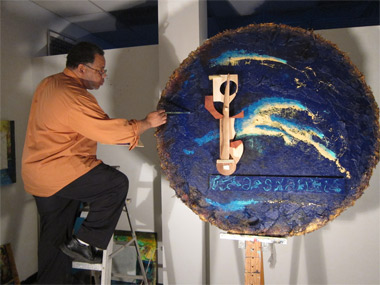 Najjar Abdul-Musawwir, an associate professor in Southern Illinois University Carbondale's School of Art and Design with his painting, "Asali," created for the 2013 African Festival of the Arts. Abdul-Musawwir is the featured artist for the festival, which is Labor Day weekend, Aug. 30-Sept. 2, at Washington Park in Chicago. (Photo provided)
July 16, 2013
Abdul-Musawwir chosen festival's featured artist
CARBONDALE, Ill. -- Najjar Abdul-Musawwir, an associate professor in Southern Illinois University Carbondale's School of Art and Design, is the featured artist for a Labor Day weekend festival in Chicago.
He is the 2013 African Festival of the Arts featured artist, commissioned for a painting representative of the theme for the event, which takes place Aug. 30-Sept. 2, at Washington Park in Chicago.  The theme is "Asali," a Swahili-Hausa word meaning "origin."
Abdul-Musawwir's painting, bearing the same name, will appear on the event's official program and also be available at the festival as a limited edition poster.
Abdul-Musawwir typically addresses culture, faith and history in his multi-media artwork.  Several of his works use burlap, which Abdul-Musawwir said holds particular symbolism for him with reference to harvest and human spirituality.
A two-degree SIU Carbondale alumnus, Abdul-Musawwir is a past winner of the School of Art and Design's Rickert-Ziebold Trust Award.  His growing list of achievements includes prior artist-in-residence honors with the N'Namdi Center for Contemporary Arts in Detroit, and Muzium and Galeri Tuanku Fauziah at Universiti Sains Malaysia.
Organizers expect more than 200,000 people to attend the festival, now in its 24th year. In addition to Abdul-Musawwir's art, musicians and other visual artists from Africa, Europe, North America and South America fill out the program.