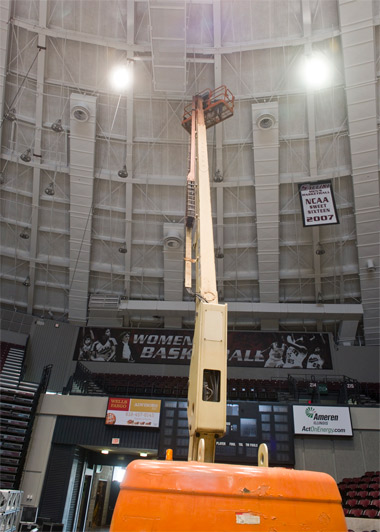 Preparing for the celebration -- Workers are using a lift to fasten hardpoints to the SIU Arena ceiling for lifting light bars and other heavy objects ahead of Saturday's commencement ceremonies at SIU Carbondale.  More than 3,600 degree candidates will cross the stage during the 9 a.m., 1:30 p.m. and 6 p.m. ceremonies. (Photo by Steve Buhman)
May 10, 2013
New events, traditions highlight commencement
CARBONDALE, Ill. -- Commencement weekend at Southern Illinois University Carbondale features new and traditional celebrations.
New this year is tonight's "Forever SIU: A Commencement Celebration."  The festive event for members of the Class of 2013 and their families is set for 6:30 to 9 p.m. in the SIU Arena parking lot. Chancellor Rita Cheng will kick off the celebration, which will include the Chicago-based cover band Mike and Joe, refreshments and items for purchase from local vendors.
On Saturday, May 11, SIU Carbondale will hold its 137th commencement ceremony in the SIU Arena. More than 3,600 candidates for undergraduate, graduate and professional degrees will cross the stage during 9 a.m., 1:30 p.m., and 6 p.m. ceremonies.
Frank Abagnale, Jr., a security and fraud expert whose life is the focus of a best-selling book and the 2002 film, "Catch Me If You Can," is the keynote speaker for each of the three commencement ceremonies.  First known as one of the world's most famous confidence men, Abagnale has been associated with the FBI for more than 35 years and advises and consults financial institutions, corporations and government agencies around the world.
The University will also honor four alumni during commencement for their service, commitment and humanitarian efforts.
Pamela K. and Philip M. Pfeffer of Nashville, Tenn., will each receive Distinguished Service Awards, and Dr. Robert L. Murphy, the founding director of the Center for Global Health, will receive an honorary Doctor of Humanities degree during the 9 a.m. commencement exercise.  Ella M. Phillips Lacey will receive a Distinguished Service Award during the 1:30 p.m. commencement exercise.
For the second consecutive year, the University will introduce a time-honored symbol that adds to the dignity of the ceremony. At commencement in 2012, a bound edition of the University Charter was displayed on the stage for the first time. This year, a ceremonial mace will be part of each ceremony. The mace is a symbol of authority and signifies the entrance of the chancellor. Om Prakash Agrawal, professor of mechanical engineering and energy processes and recipient of the 2013 Scholar Excellence Award, will carry the mace as commencement grand marshal -- a formal recognition of the power and legitimacy of scholarship and research at the University.
Cheng commissioned Rick Smith, professor of blacksmithing, and professor emeritus silversmith Richard Mawdsley, with creating the mace. Smith relied on images of the Old Main campus building, destroyed by fire in 1969, as the inspiration for his design.  The mace serves as a reminder, amid the commencement celebration, of the formality and dignity of the occasion.