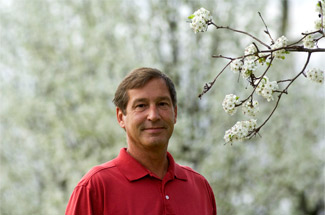 April 12, 2013
Dave Tippy's 'Grounds' department does a lot more than mow
The roar of lawn mowers outside my office announced that our long-awaited spring finally has arrived. The SIU campus is beautiful year-round, but spring is a special time.
Maintaining the appearance of the campus is no small undertaking for the 50-member crew in our Grounds Department, which is responsible for 400 acres of groomed areas, 14 miles of roadway and 40 miles of sidewalks.
But, as department Superintendent Dave Tippy will tell you, with all of the hats they wear, "Grounds" really is deceiving. In fact, despite the size, the campus' grounds represent a small percentage of the department's responsibilities.
The staff includes laborers, maintenance equipment operators and mechanics, and they play a major role in making sure the campus not only looks great, but also that much of the infrastructure stays up and running. In addition to the mowing, the seeding, and snow and ice removal, the Grounds staff handles road and parking lot maintenance, recycling, trash removal, the installation of all campus signage, and set-up and support for special events.
There's more. They maintain our athletic fields and satellite facilities, including Touch of Nature and the Transportation Education Center at the Southern Illinois Airport. In-house concrete removal, repair and construction; tree removal, asbestos abatement, construction support, landscape installations, and operation and maintenance of the heavy equipment on campus are all part of the job description. So is fire extinguisher maintenance. Few people on campus would know if there had been a water main break overnight, but the Grounds crew would be on scene helping to get it fixed.
"We are a 24/7 operation," Dave says. "We're involved in everything."
A 1981 graduate of our Plant and Soil Science program, Dave ran his own landscaping and construction company before joining the University six years ago. He has been superintendent the past two years. Part of the job he really enjoys is helping plan various projects – as the maps and floor plans all over his desk attest – including buildings, classrooms, and the Faner Hall pedestrian mall.
Dave also is participating in discussions about steps we can take to restore campus lake and Thompson Woods. I know that like me, many of you take advantage of these scenic areas of the campus, and we have a responsibility to preserve them for future generations to enjoy.
A couple of times a year, Dave and I walk around the campus to discuss projects and areas that may need his expertise and that of his crew. He takes tremendous pride in the work that they do, and for good reason.
"There are times when I will go around campus and think that we do a good job," he says. "We get a lot of compliments from people who visit from other universities about how clean our campus is. But I've always got a critical eye as well in terms of what else we should be doing. There are so many ways to improve." That is the spirit that drives our staff and faculty.