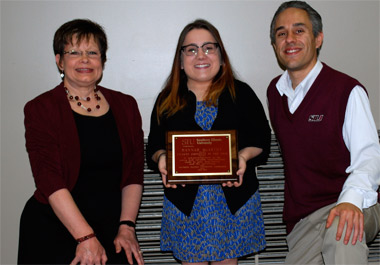 Outstanding student employee -- Hannah McArthy, center, a senior marketing major from Marion, is the 2013 SIU Carbondale Student Employee of the Year.  McArthy received a plaque and a scholarship award at recognition breakfast ceremony, Monday, April 8.  With McArthy are, left, Toni Vagner, with SIU's Financial Aid Office and, right, Zachary Sapienza, assistant director with SIU Alumni Services, who is McArthy's supervisor.  The University employs more than 4,000 students.  (Photo by Andrea Hahn)
April 08, 2013
McArthy named Student Employee of the Year
CARBONDALE, Ill. -- Southern Illinois University Carbondale honored outstanding student employees at a breakfast recognition ceremony today (April 8) as part of its observance of the annual National Student Employee Recognition Week.
Hannah McArthy, a senior marketing major from Marion, is this year's Student Employee of the Year.  Hannah Oliver, s senior from Decatur majoring in psychology, is the runner-up.
McArthy is a receptionist for the SIU Alumni Association, but she has voluntarily taken on responsibilities not typically included in the receptionist job description.  She has been conducting surveys for the association -- 50 to 60 of them -- and enjoys it so much she may specialize in surveys as she seeks post-graduation employment.
"One of the first questions they asked me is what was my major," McArthy said.  "(My supervisors) made sure I'd be in charge of things that applied to my major."
Zachary Sapienza, assistant director of the SIU Alumni Association, said any of the association's 16 student employees are worthy of nomination for the Student Employee of the Year award, but he was particularly eager to nominate McArthy.  He praised her work ethic, initiative, attention to detail, and ability to meet and surpass deadlines as traits that made her a valuable employee, and quintessentially, the type of student employee for which the award was created.
"Hannah's unique background in marketing and her penchant for professionalism have uniquely contributed to the goals of the SIU Alumni Association by substantially strengthening and improving our alumni surveys, and by continually representing SIU and the SIU Alumni Association in a positive and professional manner," he said.
Oliver works with Undergraduate Admissions, where she was a lead trainer for the implementation of the "Scholar Ambassador" tour guide program. Paul Copeland, a customer service assistant and the supervisor who nominated her, said Oliver is "the most reliable student worker I've ever worked with."  He noted she handles last minute requests from families with ease, and she volunteers to cover special events such as open houses and group visits.
Terri Harfst, director of the Office of Financial Aid, said the week of recognition for student employees honors the "obvious benefit" student workers give to the University, but also acknowledges the benefits conscientious supervisors provide students.  She thanked Mike Dunn, her supervisor from her days as an SIU Carbondale student employee, for providing her with the opportunities for which she was able to build her first professional résumé.
SIU Carbondale employs approximately 4,400 to 4,500 students.  The annual payroll for these student employees totals approximately $11 million.
Other nominees for the 2013 Student Employee of the Year were:
William Brophy, Cissna Park, nominated by Roger Turnbough, Department of Aviation Management and Flight.
Jamie Franklin, Champaign, nominated by Elizabeth Chester, the Office of General Counsel and Legal Affairs.
Philip Kunz, Trenton, nominated by Eva Pregowski, the Rehabilitation Institute.
Gabrielle Lowe, Rochester, nominated by Paige Lappe, Center for English as a Second Language.
Katie Pendergast, Prairie Ridge, nominated by Andrea Hatteman, University Housing.
Kelsey Pruitt, Elkville, nominated by Sarah VanVoooren, Student Center Scheduling Office.
Scott Schackmann, Kaskaskia, nominated by Vicki A. Nelson, the Office of the Associate Vice Chancellor and Dean of Students.
Tyler Shelton, Vergennes, nominated by Michael Reiman, Office of Records Management.
Kay Squibb, Carbondale, nominated by Michele Hines, Plant and Service Operations.
Nicole Stoodley, Makanda, nominated by Mary Nemetsky, College of Applied Sciences and Arts Dean's Office.
Tyler Voss, Breese, nominated by Mary Dunmyer in the College of Agriculture