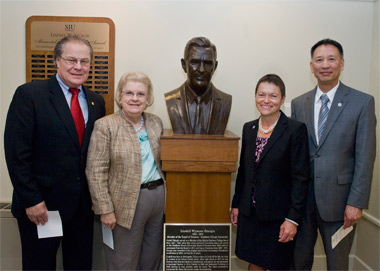 Distinguish Service recipients -- Philip and Pamela Pfeffer, left, will receive Distinguished Service Awards from Southern Illinois University Carbondale for their longstanding commitment to the University.  The couple, who met in a physics class while attending SIU Carbondale, will receive their awards during 9 a.m. commencement ceremonies on May 11.  Pictured with the Pfeffers are Chancellor Rita Cheng and Tom Cheng at the unveiling of a bust of Lindell W. Sturgis, Pamela Pfeffer's grandfather, in Anthony Hall on the SIU Carbondale campus in March 2012.  (Photo by Russell Bailey)
March 29, 2013
SIU will honor Pamela, Philip Pfeffer for service
CARBONDALE, Ill. -- A couple with a longstanding commitment to Southern Illinois University Carbondale will be honored with Distinguished Service Awards at commencement ceremonies in May.
The SIU Board of Trustees recently approved a recommendation by Chancellor Rita Cheng and the University's Honorary Degrees and Distinguished Service Awards Committee to honor Pamela K. and Philip M. Pfeffer, of Nashville, Tenn.  The Pfeffers, who met in a physics class while students at SIU Carbondale, have each been actively involved with the University for more than four decades.  The couple will receive their awards during 9 a.m. commencement exercises May 11 at the SIU Arena.
Pamela Pfeffer began serving on the SIU Foundation Board in 1995 and has two terms as board president.  A Metropolis native, she earned her bachelor's degree in mathematics from SIU Carbondale in 1967.  Pfeffer's grandfather, the late Lindell Sturgis, was a key figure in the University's growth -- serving on the SIU Board of Trustees for 30 years, including board chair from 1969 to 1971.
The Pfeffers established an endowment to fund the Lindell W. Sturgis Memorial Public Service Award, which annually recognizes the contributions of an SIU Carbondale employee to their community, area, state or nation. A bronze bust of Sturgis commissioned by the Pfeffers and unveiled in March 2012 is in Anthony Hall, along with a plaque that displays the names of Sturgis Award recipients.
The Pfeffers are life members of the SIU Alumni Association, the Paul and Virginia Society, and both have served on boards for the Alumni Association, SIU Foundation, and College of Liberal Arts.  The couple has also hosted several SIU-related events in their home.
While students at SIU Carbondale, the Pfeffers were actively involved in many activities, including the Marching Salukis, where Pamela Pfeffer was the head majorette and Phil Pfeffer was field announcer.  Pamela Pfeffer was also a member of Alpha Gamma Delta sorority and Silver Wings, formerly Angel Flight, a student professional organization dedicated to developing leadership skills and community service. 
After earning a master's degree in teaching mathematics from Vanderbilt University in 1968, Pamela Pfeffer was a university mathematics instructor at the University of Tennessee-Nashville before beginning her career in the banking industry as a lending officer and branch manager at Nation's National Bank, and an accounting instructor for the American Institute of Banking.
She is the author of "The Essential Home Record Book -- Ready-to-Use Forms for All Your Personal, Medical, Household, and Financial Information," and has also written articles including, "Are 24 Hours Not Enough?" and "Be a Woman with a Mission."
Pamela Pfeffer is actively involved in the Nashville arts scene, and heavily involved with the Nashville Symphony, including a $100 million effort to build a new venue.  She received the Nashville Symphonys Association Ovation Award in 1997 for her volunteer service.
Also active in numerous community organizations, she is a board member and corporate secretary of the board of Directors of Treemont Capital, Inc.  She also served as a member of the Reading is Fundamental national board in Washington, D.C., along with other former board memberships and organization officers, which includes Symphony Guild Italian Street Fair; the Bethlehem Centers of Nashville; Iroquois Steeplechase (Friends of Children's Hospital), the Nashville Opera Association, and member and moderator of the World President's Organization and Forum.
Philip Pfeffer is president and CEO of Nashville-based Treemont Capital, Inc., a private equity investment company specializing in newspaper and magazine publishing, web-based data management, reverse logistics, and other industries.  He is a two-degree SIU Carbondale graduate, earning a bachelor's degree in mathematics and chemistry in 1965 and a master's degree in economics in 1966.  He completed postgraduate studies in economics at Vanderbilt University from 1966 to 1968 as a National Science Foundation Fellow.
Among his SIU Carbondale honors, Philip Pfeffer received an honorary Doctor of Humane Letters in 1997, the SIU Distinguished Alumni Award in 1998, and Alumni Achievement Award in 1992.  He was keynote speaker at the Saluki Innovation Lab debut in October 2011.
Pfeffer was president, chief operating officer, director, and executive committee member for Random House from 1996 to 1998, and chairman of the board and CEO of Nashville-based Ingram Distribution Group, Inc., from 1977 to 1996.  He was also executive vice president, member of the board of directors, and served on the executive committee of Ingram Industries, Inc., the parent company of the Ingram Distribution Group.  He was an instructor in finance and economics at the University of Tennessee in Nashville from 1968 to 1977, and a lecturer in corporate finance at Vanderbilt University from 1972 to 1977.
Among his numerous honors and awards, Pfeffer has received the Tennessee Governor's Award of Merit, the Tennessee Governor's Award of Excellence, the Tennessee Outstanding Achievement Award, and the Benjamin Gomez Award for Distinguished Contributions to the Art of Book Publishing.  He was also the first "Entrepreneur of the Year" award recipient from Lipscomb University's new Center for Entrepreneurship.
Pfeffer has served on board for several not-for-profit organizations, and previously on the board of directors of Ingram Micro, Inc., in Santa Ana, Calif.  He is chairman of the board of directors of Nashville-based Essex Technology Group; and on corporate boards of PureWorks, Inc., Nashville; Optoro, Inc., Washington, D.C., and Casual Furniture Repair and Sales, St. Petersburg, Fla.  His long association with scouting includes serving as executive board member of the Mid-Tennessee Council of Boy Scouts of America, and receiving their Long Rifle and Silver Beaver Awards, along with the Distinguished Eagle Scout Awards from the National Council.