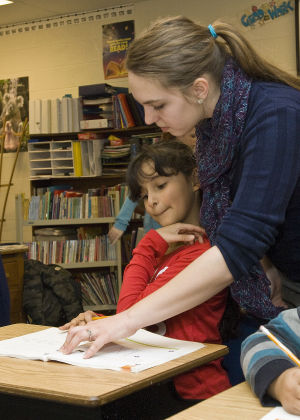 February 01, 2013
AmeriCorps volunteer: 'You should be pro-active'
We have a longstanding tradition at SIU of helping our friends and neighbors in Southern Illinois.  From assisting in Harrisburg in the wake of last year's devastating tornado to partnering with more than 60 community organizations, service and volunteerism are very much a part of our University's DNA.
It is because of that commitment that SIU is one of just 50 colleges and universities selected – out of 1,400 nationwide -- as a lead institution for the Civic Learning and Democratic Engagement Initiative, a national effort to enhance service-learning, volunteerism and civic engagement.
Our Center for Service-Learning and Volunteerism is leading several projects as part of this initiative.  One of them got under way last weekend, when more than 40 people came together to begin a discussion about enhancing our community service efforts. The participating faculty, staff, students and community partners are undertaking a semester-long self-study.
            I was pleased to see that Gabrielle Brumbaugh is one of the students helping with the self-study.  A native of Woodlawn, near Mount Vernon, Gabrielle is a senior majoring in special education and elementary education.  She is incredibly dedicated to helping others, participating in the Elementary Education Student Organization, the Student Council for Exceptional Children, and Sigma Alpha Lambda Honor Society, which promotes academic achievement and community service.  She also is a member of our Land of Lincoln chapter of AmeriCorps – the oldest one in Illinois.
            Gabrielle is building a strong resume.  But that isn't what motivates her.
            "I want to help those in need and show them that there is hope and happiness, even if they are in a tough situation. I want to help everyone succeed and give them the opportunities they deserve."
            As an AmeriCorps volunteer, Gabrielle is doing just that at Lewis School in Carbondale.  She devotes about 21 hours each week to mentoring fourth and fifth grade students.  Her focus is on helping them with reading and language skills.  Some of the students she works with have learning disabilities, and others are English-language learners.
            "I try to be a positive role model and give them encouragement.  And I am learning from them.  Working with English language learners helps me break down language and cultural barriers, and that will help me in the future.  That also is true of the students with ADHD.  It helps me develop strategies to help them."
              Gabrielle's commitment, and that of her fellow members of the Student Council for Exceptional Children, extends throughout the region.  The students assist Gum Drops, a local organization that provides weekend backpacks of child-friendly food to schools, which distribute the backpacks to at-risk children.
            "I'm not one to sit around," Gabrielle says.  "You know there are children who have rough lives.  Instead of being sad about it, you should be pro-active."
            She earns high praise from Kate Baba, Gabrielle's supervising teacher at Lewis School and a special education teacher for more than 33 years.  Kate has worked with our AmeriCorps students for the past 12 years.
            "I have high expectations of students who work with me from SIU.  Gabrielle exceeds my expectations."
            That's a great reflection on Gabrielle, on our programs, and on our University's culture of caring.