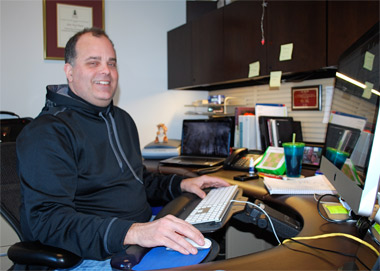 Photos by Christi Mathis
January 09, 2013
Ten Questions With ... JP Dunn
Job on campus and department you work in:  Learning Management System Administrator, Center for Teaching Excellence.
How long at SIU Carbondale: Since 1985. I have been full-time on campus for almost 18 years, but I also worked as a student assistant and graduate assistant in the same department I am in now.
Hometown:  Centralia
When you were a youngster, what did you want to be when you grew up?  I wanted to be like my father, a firefighter and TV repairman.
If you could choose another profession, what would it be and why?  I would love to work in law enforcement, especially forensics. 
What three things are at the top of your bucket list?  Skydiving, taking an ocean cruise and driving across the country.
If you could take a photograph of your life, what would the picture be?  Probably like an M.C. Escher print.
Are you a collector?  If so, what do you collect and how did you get started?  I collect penguins.  Like most collections, someone bought me a penguin and others saw it and started buying them for me.  Now I have more than 100 penguins.  When I visit the St. Louis Zoo, I have to stop by the penguin house and gift shop.
What was your first car?  Would you like to have it again?  Why or why not?  It was a 1971 Mercury Cougar.  You could feel the gas draining out of the tank as you drove it.  I would never want such a boat again.
If you could meet an historical person, who would it be and what would you talk about?  Steve Jobs.  I would love to talk about where he got his inspiration.
Favorite TV show (still running or ended)?  NCIS and M.A.S.H.  I have seen every episode at least 10 times.
What is your pet peeve?  Most of my pet peeves revolve around the driving habits of people, such as not using turn signals, etc. 
What would you like your gravestone to say about you?  I don't want to be buried.  I would prefer to donate my organs and then have my remains scattered in a vineyard.  A memorial plaque would be fine:  "Here lies JP.  He laughed, he loved, he lived.  RIP."