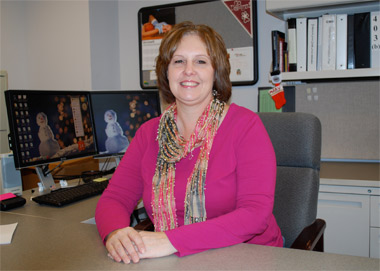 December 19, 2012
Ten Questions With ... Mary Nippe
Job on campus and department you work in:  Deputy director, Human Resources.
How long at SIU Carbondale: 22 years
Hometown:  Tamaroa
When you were a youngster, what did you want to be when you grew up?  A flight attendant.
If you could choose another profession, what would it be and why?  A lawyer.  Something about the legal field fascinates me.
What three things are at the top of your bucket list?  I would like to visit different parts of the world, attend the NCAA Final Four Basketball tourney (preferably with awesome seats!), and have a "to do" list with everything checked off.
What is your favorite way to spend a day?  My favorite days are the ones where you are completely free to choose to do or not do whatever you want.
If you could take a photograph of your life, what would the picture be?  Most days it would be of a signpost with multiple arrows pointing different directions.
What is the best advice you ever received?  To find the positive(s) in even the worst situation.
Are you a collector?  If so, what do you collect and how did you get started?  I wouldn't consider myself a collector, but have I several snowmen and angel figurines. 
What is one word to describe you?  Meticulous.
What is your pet peeve?  Unnecessary negativity.
What would you like your gravestone to say about you?  Devoted & Loving Mother.