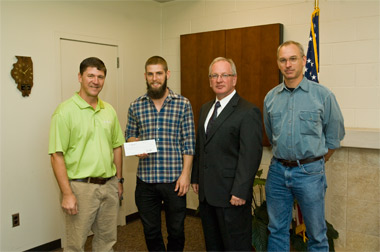 Grant winner -- Tom Beshoar, left, a sales arborist with The Davey Tree Expert Company, presents a Davey Foundation Arbor Grant Program check to SIU Carbondale student Jason Shirar, a senior from Washington, who is majoring in urban forestry/forestry management.  Next to Shirar, from left, is Mickey Latour, dean of the College of Agricultural Sciences, and John Groninger, a professor in forestry. (Photo by Steve Buhman)
December 05, 2012
Davey Tree awards grant to Jason Shirar
CARBONDALE, Ill. -- Southern Illinois University Carbondale student Jason Shirar is the recipient of a national award in recognition of his efforts in the "Green Industry."
Shirar, of Washington, recently earned a Davey Foundation Arbor Grant.  His selection marks the fifth consecutive year that an SIU Carbondale student is a Davey Foundation Arbor Grant recipient.
"It's great to have students like Jason that are interested in the green care industry and willing to step into the field and be so active," said Tom Beshoar, sales arborist for The Davey Tree Expert Company, and a 1998 SIU Carbondale plant and soil graduate.
Shirar has been involved in a variety of campus and community projects during his time at the University.  Through his internship with Emily Hanson, forestry researcher, on a state-funded project, he has provided urban tree-related assistance to Illinois communities.  He works in urban and community forestry outreach, providing educational presentations to garden clubs, civic organizations and other groups about relevant topics including the ash borer and the recent drought. 
Shirar has also donated his time and energies to local non-profit organizations doing trail work and invasive species removal.  In addition, he is finishing up the requirements to help the University acquire designation as a Tree Campus USA.
"I nominated Jason for this grant because of his potential to serve as a leader in the urban forestry field and in recognition of all of the work he has already done in showing people the value of urban forestry," said John Groninger, forestry professor.
Shirar, the son of Debbie and Chris Ash, is a senior urban forestry/forestry management major.  He plans to use the $1,000 grant for educational expenses.  He plans to seek employment within the urban forest management field after graduation.
The Davey Tree Expert Company also provides support for University teaching programs, is awarding 30 grants around the country this year to promote the industry and "give back" to the communities, Beshoar said.