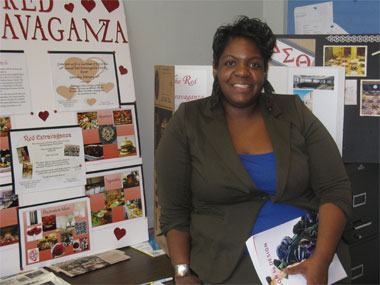 November 28, 2012
Ten Questions With ... Shelby Adkinson
Job on campus and department you work in: Assistant Instructor, Fashion Design and Merchandising.
How long at SIU Carbondale: I began in August.  I earned my bachelor's degree in Fashion Design from SIU Carbondale in 2004.
Hometown: Cairo … a small town "where everybody knows your name, and they're always glad you came!"
When you were a youngster, what did you want to be when you grew up? Following the footsteps of my mother, I always wanted to be a teacher. At 11, my mother took me to my first fashion show, the Ebony Fashion Fair, and from that day I was hypnotized. I wanted to be a designer since that very moment!
If you could choose another profession, what would it be and why?  Event Planner. I plan and coordinate weddings and events all the time, and I absolutely love it!  I love the thrill of designing anything from beginning to end. Seeing the final product is so rewarding -- though I hate the cleanup.
What is one random fact about you? I am a "kid at heart!" I love children! As noisy and as busy as they are, for some odd reason, I always feel joy, peace and a sense of completion around them. They are so honest, open to learning, have no fears and are loveable.
What three things are at the top of your bucket list? This is kind of tricky because I keep completing my bucket list; God has truly blessed me! So I will say 1. Be a part of or at least in the audience of one of the runway shows during Mercedes- Benz Fashion Week in New York City. 2. Plan my "own" wedding. 3. Design a line for a major department store.
What is your favorite way to spend a day?  Watching "Say Yes to the Dress" and reading Bazaar or Essence magazines all day. On my energetic days I love taking my son on what we call our "dates," even though the majority of the "date" is spent on him.
What is the best advice you ever received? My father had his own graphic business and every time he did a sign that didn't meet "his" standards, he would rip it up and start again. I asked him why, and he said, "Everything you do or put out that has your name on it says who you are as a person." This has caused me to always strive for excellence.
What is one word to describe you? DETERMINED!
What was your first car?  Would you like to have it again?  Why or why not? It was a 1999 mint green, Ford Escort. I would like to have it again for the great gas mileage. Well, maybe not – I forgot that the air conditioner stopped working.
If you could meet an historical person, who would it be and what would you talk about? I never really wanted to meet any certain historical person because I always believed that God instilled the potential in all of us to be history makers. But their accomplishments and drive for change most definitely help define and motivate me! I wouldn't be in this position without them. I pull from my ancestor's strength. I am a product of a "history-making legacy" thanks to my mother's parents.
What is your pet peeve? Laziness, excuses, and a fear of change.