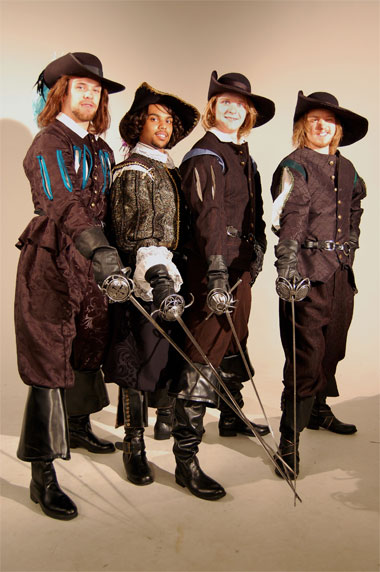 Three Musketeers Plus One  -- Southern Illinois University Carbondale students Michael Wilson, Jonathan Rivera, Josh Kimball and Robert Price will be featured as Aramis, Porthos, D'Artagnan and Athos in "The Three Musketeers." The production runs Nov.  29 to Dec. 2, at the University's McLeod Theater.  (Photo provided)
November 19, 2012
'The Three Musketeers' top holiday theater fare
CARBONDALE, Ill. -- The holiday season arrives with a whoosh, a clang, a clink and a bang as the Southern Illinois University Carbondale Department of Theater presents the wildly entertaining and funny "The Three Musketeers." 
The production runs Nov. 29-Dec. 2 at the McLeod Theater in the Communications Building on campus.  Performances begin at 7:30 p.m., except for the Sunday matinee, which begins at 2 p.m.
This comic adaptation of the classic swashbuckling adventure novel by Alexandre Dumas tells the story of D'Artagnan, who seeks his place with the King of France's special guards.  However, this version sees D'Artagnan accompanied by that most worthy of companions, his kid sister.
Tickets to the production are $16 for adults and $6 for students. Tickets are available from noon to 5 p.m., Monday through Friday, in person at the box offices at either McLeod Theater or Shryock Auditorium.  Tickets are also available by phone at 618/453-6000, or online at southernticketsonline.com/.