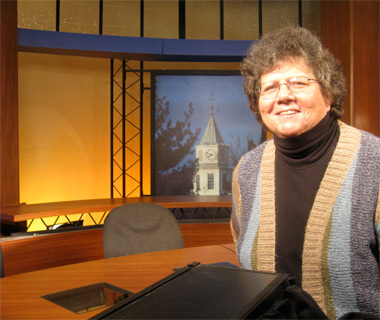 (Photos by Pete Rosenbery)
November 14, 2012
Ten Questions With ... C.J. Grammer
Job on campus and department you work in: Instructor for the Department of Radio-Television
How long at SIU Carbondale:  Since August 2012
Hometown: Sadorus, Illinois.  It's a farm town of 450 people 14 miles southwest of Champaign-Urbana.
When you were a youngster, what did you want to be when you grew up? First, I think I wanted to be a pediatrician.  Then I discovered TV and became fascinated by it.
If you could choose another profession, what would it be and why? I would be the owner/operator/cook at a pizzeria. Managing two ovens that usually contained a total of 60 pizzas on a Saturday night was my favorite job when I was in college.
What is one random fact about you?  I once used the Goodyear Blimp in a television production. I still use the key chain they gave me.
What is the best advice you ever received? Do a job you love and it will never be like work.
Are you a collector?  What do you collect, and how did you get started? I collect old still cameras and have since I first got out of college.
 What is one word to describe you? Enthusiastic
What was your first car?  Would you like to have it again?  Why or why not? It was a '68  (I think) Toyota Corolla. May it rest in peace. It had a problem with using water and over-heating. I had to carry a 5-gallon jug of water with me everywhere. Never again!
 If you could meet an historical person, who would it be and what would you talk about?  Eleanor Roosevelt.  I would ask her about her life and some of the choices she made and how she managed to be such a strong and resilient woman.
What is your pet peeve?  I don't have a lot of patience with constant complainers.
What would you like your gravestone to say about you? "Fade to Black, that's a wrap, strike the set."