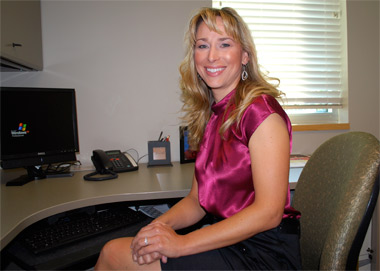 Photos by Christi Mathis
October 24, 2012
Ten Questions With ... Dawn Null
Job on campus and department you work in:& Wellness Coordinator, Student Health Services Wellness Center
How long at SIU Carbondale: 22 years
Hometown: Pittsfield
When you were a youngster, what did you want to be when you grew up? John Travolta's wife.
If you could choose another profession, what would it be and why? I would choose a profession where I could be creative and artsy like interior design, graphic design or a cake and confections chef. How fun would it be to be on Cupcake Wars?!
What is one random fact about you? I am an amazing parallel parker.
What three things are at the top of your bucket list? 1. Running a marathon (check!), 2. Getting on "Wipeout!" 3. Writing a kids book.
What is your favorite way to spend a day? Working or playing outside on a gorgeous fall day with my kiddos getting along (rare, but nice!).
What is the best advice you ever received? Ninety percent of those things you worry about never come to pass.
Are you a collector?; If so, what do you collect and how did you get started? I collect Fenton rose crest dishes and Miss American pink Depression glass. My mom collected different glass so I kind of fell into it.
What was your first car? Would you like to have it again? Why or why not? My first car was a Buick Skyhawk. No, I don't really want to have it again. It was a great car, I just don't need three cars!
If you could meet an historical person, who would it be and what would you talk about? My grandma Ruby's mom. I would like to meet her just to see what she was like. Truthfully, instead of meeting someone historical, I would rather bring back my grandma Ruby, my grandma Barb and my uncle Mike just to catch up and play a game of Pictionary.
Favorite TV show (still running or ended)? Bewitched.