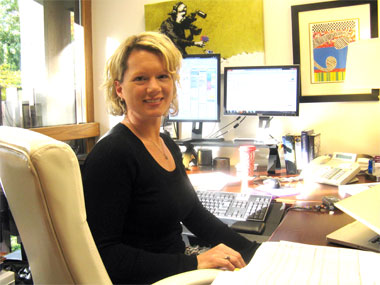 October 17, 2012
Ten Questions With ... Emily Burke
Job on campus and department you work in: Program Coordinator, Paul Simon Public Policy Institute.
How long at SIU Carbondale: I have been at SIU for 7 years , including graduate assistantships. I came to work at the Institute as a graduate student in 2007, and later applied for a full-time position.
Hometown: Murphysboro, with my two daughters, Madeline and Evie. I've also lived in Herrin, and Washington D.C. I truly love Southern Illinois.
When you were a youngster, what did you want to be when you grew up? When I was six, some high school students in charge of the yearbook asked me what I wanted to be when I grew up -- I told them "a medical laboratory technologist." They asked me again, and then a third time in front of my teacher; I thought I was in trouble. They printed my aspiration next to my first-grade picture and that really was my first career. I worked at UMWA hospital in West Frankfort, Herrin Hospital and later in the Washington, D.C. area during the anthrax crisis/sniper incidents. Later I left health care to pursue a Master's in Public Administration at SIU Carbondale.
If you could choose another profession, what would it be and why? I would make documentaries, because they're often about something or someone seemingly ordinary -- and then you see these amazing truths about the world emerge from that everyday story. We need to think differently about many of the "everyday stories" around us.
What is one random fact about you? I used to ride a motorcycle, a Honda Shadow that I named "Oscar."
What three things are at the top of your bucket list?
1. Cross the Atlantic in a medium-sized boat with some really nice ham radio equipment to pass the time. 2. Travel the length of the Panama Canal in any boat and see a brick made in Murphysboro. 3. Meet Paul Simon the singer and ask him what he knows and thought about Senator Paul Simon.
If you could take a photograph of your life, what would the picture be? A well-stocked base camp with abundant supplies and the best gear - all ready to be picked up for the next experience.
What is the best advice you ever received? A former boss advised me not to get attached to the goals I set for myself, but to be open to potentially better opportunities.
What was your first car? Would you like to have it again? Why or why not? An enormous brown 1979 Chrysler Newport. It was about 15 feet long and I'm almost positive I'd need a CDL for it today.
Are you a collector? What do you collect, and how did you get started? I collect vintage photographs from all over the world of women on sailboats from the late 1800s up to about 1950. It's interesting to see how they pose differently at the stern, helm and bow. I'm obsessed with sailing and bought my first photo at an antique store in Kentucky a few years ago, and now find them in auctions online and receive photos from friends. I love everything about sailing -- even on the way to the Student Center for lunch I'm noting the wind strength or direction. "You should feel it on both earlobes equally," a sailing teacher told me about sensing wind direction.
If you could meet an historical person, who would it be and what would you talk about? Senator Paul Simon, and how to inspire young people to become more involved in their communities and politics. I would also ask how he avoided the trap of despair during difficult times, and also seek career advice.
What would you like your gravestone to say about you? She lived her own reality show.