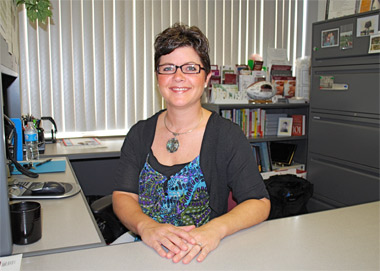 Photos by Christi Mathis
October 10, 2012
Ten Questions With ... Deborah (Debi) Barnett
Job on campus and department you work in: Coordinator, Non-Traditional Student Services (a unit of Student Life and Intercultural Relations.)
How long at SIU Carbondale: Since November 2011
Hometown: Anna
When you were a youngster, what did you want to be when you grew up? A teacher. I loved to write on the chalkboard.
If you could choose another profession, what would it be and why? I would own a spa on the beach because that would allow me to combine two of my favorite things.
What three things are at the top of your bucket list? To speak Spanish fluently, travel to Spain, and to live on the water. (One of the three is hopefully in the near future.)
What is your favorite way to spend a day? Having no schedule so that I can create my own day or just relax.
If you could take a photograph of your life, what would the picture be? Me and my family standing with our toes in the sand and the waves crashing in and the ocean breezes blowing. It's a picture of family, peaceful surroundings and true simplicity.
What is the best advice you ever received? Follow your dreams, be patient and never give up.
What is one word to describe you? Committed.
What was your first car? Would you like to have it again? Why or why not? A two-tone Monte Carlo and no, I would prefer not to have it again. Another vehicle crashed into the driver's side door and, for a time, I had to crawl in and out of the passenger's side.
Favorite TV show (still running or ended)? Probably Seinfeld. There are certain episodes that I still laugh at every time even though I've seen them over and over.
What is your pet peeve? Those who drive too closely behind another vehicle - especially if it's my vehicle they are following too closely behind.