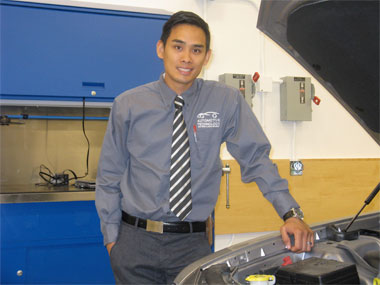 October 03, 2012
Ten Questions With ... Omar Trinidad
Job on campus and department you work in: Assistant professor, Automotive Technology.
How long at SIU Carbondale: 8 years.
Hometown:  I was born in Manama, Bahrain; raised in La Trinidad, Philippines, and grew up in Chicago.
When you were a youngster, what did you want to be when you grew up?
During high school, I wanted become an architect.  Unfortunately, my drawing skills are a bit on the preschool level. I also had aspirations of becoming a police officer, firefighter, or going back home to the Philippines to become a farmer.
If you could choose another profession, what would it be and why?
I would love to be a driver/engineer for a major automotive manufacturer. It would be fun to go to work and race cars all day.
What is one random fact about you?
I am double jointed.
What is your favorite way to spend a day?  Spend time with my family, work in the garage, eat a good meal, and relax.
What is the best advice you ever received?
You can always make more money, but you can never make more time.
Are you a collector?  What do you collect, and how did you get started?
Although my father and mother always provided us with food, shelter, and love, we did not grow up in an affluent family; we use to go "alley shopping" in the streets and alleys of Chicago for furniture, toys, and anything else we could find.  So now that I am an adult, collecting things is still a habit. But, my wife is helping me change that for the better.  
What is one word to describe you?
Alive
What was your first car?  Would you like to have it again?  Why or why not?
My first car was a 1982 Volkswagen cabriolet and I do not want to have it again. I want a car with modern technology integrated into it.
If you could meet an historical person, who would it be and what would you talk about?  Henry Ford. I would talk about a 305-horsepower V6 engines that can attain 29-mpg highway or any of the four cylinder turbocharged engines that can reach more than 250-horsepower.
What is your pet peeve?
People that only complain without any resolution.