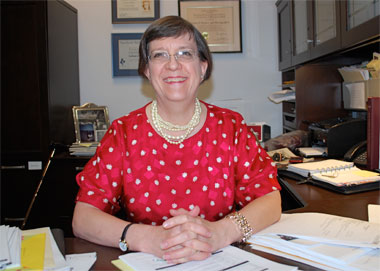 Photos by Christi Mathis
September 26, 2012
Ten Questions With ... Kristine B. McGuire
Job on campus and department you work in: Constituent development officer for Morris Library
How long at SIU Carbondale: Since January 2005.
Hometown: Downers Grove. Before coming to Carbondale, my husband and I lived in Sudbury, Mass.
If you could choose another profession, what would it be, and why? Either an historian or something in textiles design.
What is one random fact about you? When I was 18 months old, I was hit by a car.
What three things are at the top of your bucket list? Go to Sweden, travel on the Orient Express and see the terra cotta soldiers in Xian, China.
What is your favorite way to spend a day? Reading, doing needlework, weaving, and visiting museums with my husband.
What is the best advice you ever received? Don't burn your bridges and be nice to everyone on the way up because you will meet them on the way down.
Are you a collector? If so, what do you collect and how did you get started? Yes, I have a collection of about 100 tea/coffee cups of all sizes. When I was six years old my father bought a demitasse cup called the rose of Texas. He said it reminded him of his daughter.
What was your first car? Would you like to have it again? Why or why not? A Volkswagen van. Yes, it was a great way to travel around the country.
If you could meet an historical person, who would it be and what would you talk about? Queen Elizabeth the First. Governing in tumultuous times and how heavy her clothes were.
Favorite TV show (still running or ended)? The Fall and Rise of Reginald Perrin. It was on PBS 1976-1979.
What would you like your gravestone to say about you? She enjoyed life, laughed a lot and is missed.