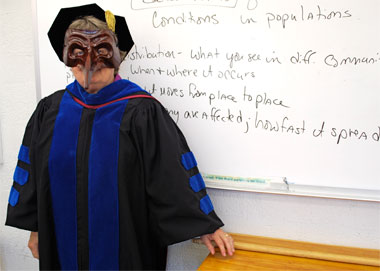 Wilken addresses her students wearing what physicians wore during the Black Plague. The robe denoted the wearer was a learned man while the mask beak was filled with herbs to block smells and also keep the doctor an appropriate distance from a patient.
September 19, 2012
Ten Questions With ... Peggy Wilken
Job on campus and department you work in: Clinical assistant professor, Department of Health Education and Recreation.
How long at SIU Carbondale: More than 30 years.
Hometown: Milford, Ill.
If you could choose another profession, what would it be and why? An investigator, because I like to logically think through clues.
What is one random fact about you? I like to do interior design.
What three things are at the top of your bucket list? 1. Travel to Africa, 2. Go on safari, 3. Travel 100 years into the future.
If you could take a photograph of your life, what would the picture be? Me jumping off a high dive into a pool because that is how I live my life.
What is the best advice you ever received? A seasoned teacher once told me when I was first starting out in education that "a good teacher is firm, fair and consistent." He was right.
Are you a collector? If so, what do you collect and how did you get started? No! I consider collections as hostages. If you collect them then you have to take care of them.
What is one word to describe you? Persistent.
What was your first car? Would you like to have it again? Why or why not? My first car was a 1966 Ford Mustang, metal flake blue with spoke wheels. Yes, I would like to have it again because it would be worth some money now.
If you could meet an historical person, who would it be and what would you talk about? No one really impresses me that much for me to want to meet them. I would rather see the future. After all, they are just people.
What is your pet peeve? People that seem totally unaware that their shopping cart in the middle of an aisle is blocking everyone else.
What would you like your gravestone to say about you? Celestial traveler destination unknown.