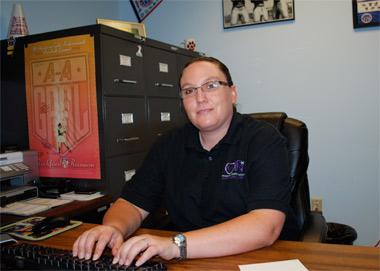 September 12, 2012
Ten Questions With ... Bobbi Knapp
Job on campus and department you work in:  Assistant professor in the Department of Kinesiology, and adjunct professor with the Women, Gender and Sexuality Studies program.
How long at SIU Carbondale: I'm in my fourth year.
Hometown:  Evart, Mich., originally -- now Carbondale.
When you were a youngster, what did you want to be when you grew up? I wanted to become an archaeologist.  I grew up on a farm where you could go out looking and find arrowheads, grinding stones and other artifacts from people who had lived in the area much earlier, so I remember always being on the lookout and sifting through dirt trying to find some historical treasure. 
What is one random fact about you?  I have a somewhat limited sense of adventure in that I like to try things but usually only once, such as solo sky diving, whitewater rafting and safari in Kenya. 
What three things are at the top of your bucket list?  1. Visit all the national parks; 2.  Write a book; 3. Make a difference.
If you could take a photograph of your life, what would the picture be?  A blur -- so much to do at this point in my life.
What is the best advice you ever received?  You are only as good as your word.  I grew up in a blue-collar family with a lot of pride, hard work, and not much else.  I learned that the most important thing is not what you own but who you are.
Are you a collector?  If so, what do you collect and how did you get started?  I wouldn't necessarily refer to myself as a collector but I do have on display at home various rocks I have picked up:  Petoskey stones found along the shores of Lake Michigan and ocean-tumbled rocks from the beaches of California. 
What was your first car?  Would you like to have it again?  Why or why not?  My first car was a Reliant, and I have no desire to have it again.  It was a reliable car but lacked character.
If you could meet an historical person, who would it be and what would you talk about?  I would love to meet Eleanor Roosevelt and talk about her experiences, issues of social justice and politics in general.
Favorite TV show (still running or ended)?  The Big Bang Theory makes me laugh.
What is your pet peeve?  This is probably the oddest pet peeve, but I dislike it when people refer to apes such as chimpanzees and gorillas, as monkeys.  I am also not a fan of people failing to use their turn signals when driving.